Chutes and Ladders meets a cheeky trip around the world with aBigJourney iPad app. The gestures are so simple that you might be able to teach your great-grandmother to play. And, the familiarity of the concept of rolling a dice and moving a game piece creates a no-learning-curve scenario. You simply open aBigJourney iPad app, select the number of players, and start.
The graphics of aBigJourney iPad app are a special blend of Scooby Doo and cheesy postcards. With Scooby Doo, there was a slight exaggeration to the characters and the cartoon's environment, but, otherwise, it was a world reminiscent of reality. The game board of aBigJourney is filled with famous landmarks and buildings, as well as references to books, movies, and history. The images remind me of the cheesy postcards sold in Italy with a photo of the sculpture of David, a cup of soup, the Sistine Chapel, pizza, and a glass of wine. Things go together, but in a haphazard, peculiar way. Superman is flying out of a tall building. A Scottish gentleman stands on the rocky coast with the Loch Ness monster in the ocean. The Pyramids are nestled in the desert, and the United States Capitol building is at the foot of the mountains. Clearly, this is not a literal trip around the world, but one constructed over a couple of shots of vodka.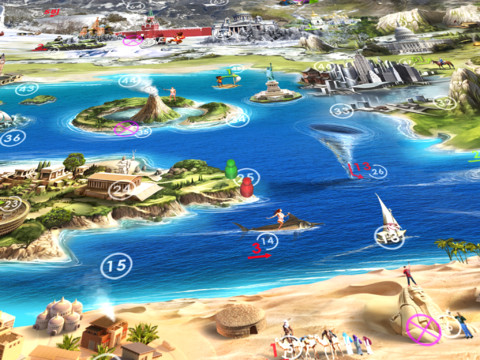 The game board of aBigJourney iPad app rests on a coffee table, and the colored pawns start in the lower left hand corner. A globe rests over the head of the player with a turn. You flick the globe or swipe the screen to roll the dice. Your piece magically moves the correct number of spaces without your assistance. If it must slide back after encountering an obstacle like a hurricane, then it will slide back. If it stops on a position where you can advance, then the pawn will automatically move forward. You have completed the game when you both reach the UFO after passing through a constellation or two. The final accoutrement is the slow groove soundtrack.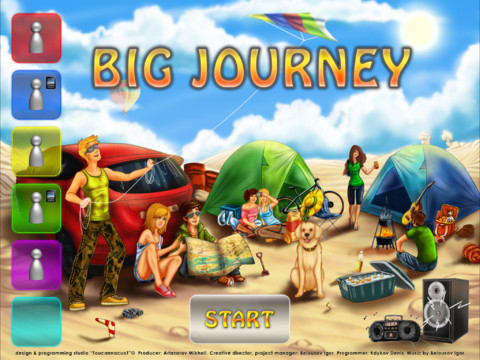 aBigJourney iPad app has a great, fun concept of simply recreating a familiar board game. The graphics could certainly stimulate conversation, but it would continue to be visually appealing to filter and streamline the graphics. Perhaps, you have a game board of each continent. I understand the tongue-in-cheek humor, but it gets lost in the visual clutter. This concept would translate nicely into a game designed for families to discuss geography and history in a meaningful way, as well.
There are good bones in aBigJourney iPad app. The price of $2.99 would be reasonable, if it was executed perfectly. But, that's not the case right now.