The Super Snack Time iPhone app is an arcade game that incorporates elements of pinball and Space Invaders. The free download from the iTunes App Store is fun and appealing, but the simplicity of the gestures and the relatively slow movement of certain elements of the game in the early stages may turn off those who prefer more complex iOS games.
The Super Snack Time iPhone app has a typical free game interface. The simple home screen offers one touch selections to play by selecting levels, play arcade style (available with unlock), shop, and adopt. You can also earn coins by connecting on Facebook and Twitter. The screen for play by levels is fun, and it is reminiscent of Super Mario Galaxy. There are five, quasi-planets, and you start with the highlighted one in the upper left hand corner. At first, you just tap the world, tap the level, and hit play. As you unlock skills and power-ups, then you can tap additional items bought or unlocked and incorporate them into your game play.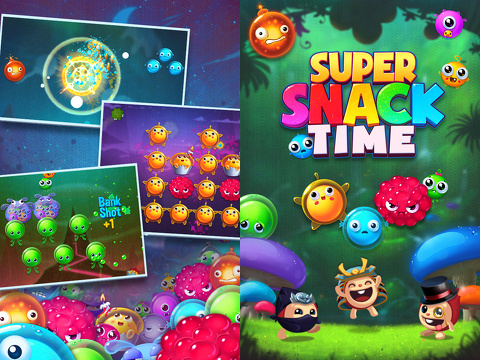 The Super Snack Time characters are known as gobblens, and they are cute, circular blobs that you fling and toss at obstacles crossing in the sky. In a similar vein as Space Invaders, the obstacles move across the screen in different layouts. There are berries that require multiple wallops to eliminate them. You may hit dynamite to explode and take out multiple obstacles at once. You earn extra points by knocking out multiple obstacles at one time through achievements and power-ups. You can also hit cannons and high-powered items to win, and then, you use them to shoot more frequently and earn points quickly.
To shoot an item out of the sky, you point and fling your gobblen with a simple swipe and flick. The flick is a responsive gesture control. You can pull back and release, or simply fling it into the sky. To use a power-up, you adjust the direction of the item with your finger and tap the icon. The gobblen can also bounce off exploding items and the side of the screen, then take out additional obstacles for extra points. You can spend your points on costumes, power-ups, and rewards.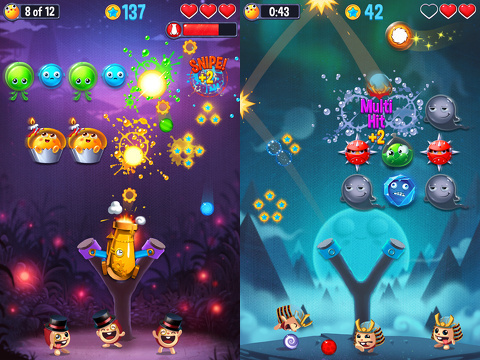 The Super Snack Time iPhone app has responsive gesture controls, nice graphics, and a solid interface. It doesn't get too fast and difficult quickly, and it may not suck folks in swiftly. The arcade mode would make up for the slow arrival of challenges, and it's unlocked in just a handful of levels. It's certainly worth a look for those who enjoy arcade iOS games.