Build a dinosaur zoo, maintain it, please your customers, and watch your earnings grow with the Dinorama iPhone, iPod Touch, and iPad app. You use simple gestures to complete tasks and greet customers, while keeping an eye on the income and expenses. The graphics are bright and fun, and the experience is fast-paced. This free download from the iTunes App Store keeps you and your kids engaged in a fun game with real-life banking experience.
In the Dinorama iPhone app, you get to customize your theme park. You purchase a dinosaur and other amusement park accoutrements like photo booths, bathrooms, and popcorn stands to build your attraction. There are cute touches like customizing the colors and naming your dinosaurs. For each item you purchase, pop-up information including carrying costs and potential earnings help you make informed purchases. You can drag and drop attractions to more desirable locations in the park as well. You continue to visit the store and add more attractions, as you earn and save your money. In an interesting twist, you can also earn interest saving in the bank.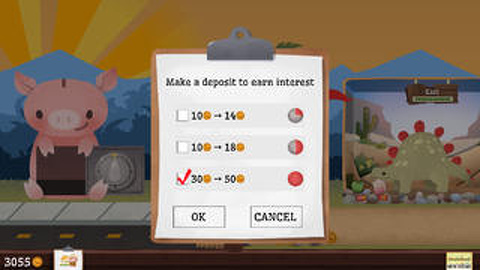 For every attraction and customer, there are always a series of income and expense challenges you must juggle. For example, the dinosaur must be fed regularly, and that fee is deducted from your take. If a dinosaur's building requires a repair, then you must drag the tool to the building to repair. For every amount earned from your customers, you must answer their questions, place them in the appropriate location, and pick up after them. For the photo booth, you must drag customers to the cute graphic. But, not all customers are willing to pay for the photo and an x icon appears above them. With several attractions and several customers, it is an engaging, feature-rich experience.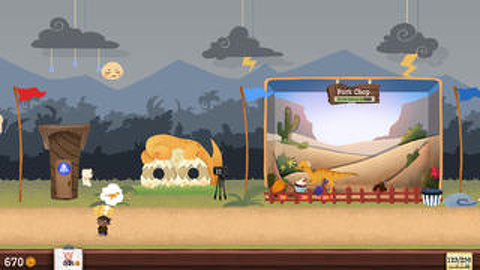 There are several nice touches to help you stay on top of your tasks. There is a constant dialogue at the top to give you pointers and help you understand gestures. There is always a goal that is presented on a graphic pop-up you are working to achieve like earning enough to offset upcoming bad weather. You are rewarded for keeping the facilities clean by swatting flies and picking up litter. As you accumulate points, you can spend them on new facilities or blow it on hats and cute things. This is a nice vehicle for talking about investment.
The Dinorama iPhone, iPod Touch, and iPad app is a revealing approach to learning. Best yet, it is addictive.