Move: A Brain Shifting Game is a compelling, addictive puzzler app for iPhone, iPod Touch, and iPad. The sophisticated graphics, challenging puzzles, and agile gestures combine seamlessly to create an experience not typically attained by a free iTunes AppStore download – or at least the first 300 puzzles are free.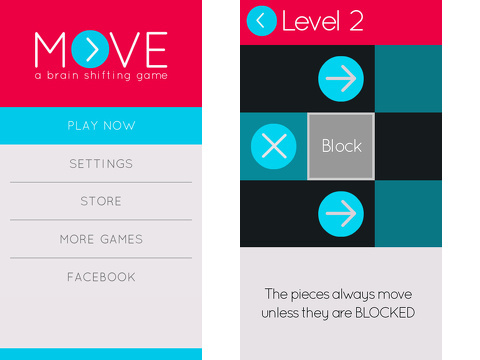 The Move: A Brain Shifting Game iPhone app has a straightforward premise – move pieces within a grid to a new location. In this game, the moving pieces are boldly-colored circles called pawns. You move them with your fingers to the similarly shaded squares on the grid. When you move one pawn, all of the pawns move in that same manner unless there is an obstacle. There are free spaces in the grid to use for moving pieces, but there are also obstacles. If you move a pawn, only those that can move freely on the board move. If an obstacle is present, that pawn is blocked and does not move. The grids start at three by three squares with three pawns, and gradually progress to larger sizes like four by four and five by five.
The game play is refreshing, fun, and filled with just enough challenge that you must think, but you are not frequently stumped or find a puzzle impossible. You simply must think about the shape you need to create with your existing pawns and the free space, as you maneuver within the boundaries and obstacles. The fewer moves you make to solve the puzzle increase your rating. A perfect score is available just below the grid, as well as the tally of moves available. You can reset the puzzle and access hints from the lower menu bar.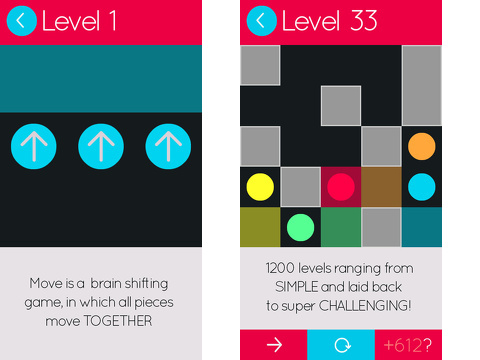 You can purchase additional boards with larger sizes, more pawns, and more colors for $.99 each. Each group of puzzles has a witty name like Bust a Move, Move It or Lose It, and Get a Move On. You can also purchase hints. Between puzzles in the free 300, there is a pop-up to suggest an iOS app download. It is unobtrusive and lacks the overly-tacky blinking buy-me lights that some free iOS games require you to bear.
The Move: A Brain Shifting Game iPhone app will suck you in. I have tried to get this review completed for three days, but I continued to blow through the puzzles instead of write. It's time for me to buy the next 100 puzzles, and, after this free download, you will too. The quality of the game easily merits in-app purchases to keep the Move: A Brain Shifting Game iPhone app juice flowing.