The har•mo•ny iPhone, iPod Touch, and iPad app takes puzzle play and strategy in a new direction. Instead of solving a puzzle with the smallest possible number of moves, you must move each part of the puzzle a certain number of times. The puzzles seem easier to solve because you have more chances. But, mentally, it's a challenge to shift out of the familiar mode of thinking when you approach these puzzles. The har•mo•ny iPhone app is currently a free iTunes App Store download, so you will want to grab it while it's on sale.
The har•mo•ny iPhone app is designed to be a cool, zen experience. You are encouraged to wear headphones by the subtle, shaded headphones graphic when you open it. A chill, instrumental soundtrack streams through your headphones, as you are introduced to the gestures and object of the game. You must connect blocks of the same color together in horizontal stripes. The top stripe is the same color as the very top of the screen, and the bottom stripe must be the bottom of the screen. The inclusion of the strips of color at the top and bottom lead to a saturated, color-driven immersion.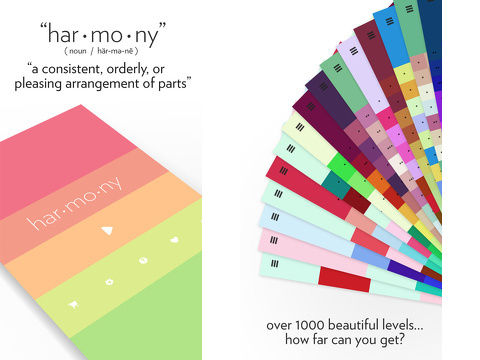 Each block of color has a dot or number of dots. This number of dots is the maximum number of times the block must move. The blocks of color are mixed up, and you tap one to move it. The destinations for each block's movement are highlighted with pulsing, darkened colors. You tap the square where you want it to move for the action to take place. Blocks can move vertically and horizontally, and at times they can move more than one space. Frequently, you switch blocks of the same color in the horizontal stripe you assumed you had completed.
The gameplay of the har•mo•ny iPhone app takes a bit of mental adjustment. At the bottom of the screen, there are four icons – restart, reveal, undo, and next. The reveal icon is helpful, as the screen switches to show you the final puzzle. When you make an incorrect move, an X appears in the middle of the block. When you move a block correctly, there is a Y. If you make a wrong move early, you should plan to hit restart or undo. You start with five undo options, but more are available for in-app purchase.
The har•mo•ny iPhone, iPod Touch, and iPad app is a play-anywhere-you-find-yourself-waiting style of puzzler. The relaxing soundtrack is lovely, and the puzzles require thought – but can be accomplished in a setting filled with distractions.