The Cloud Breaker iPhone, iPod Touch, and iPad app is a fun, Tetris-inspired puzzler. The square graphics reference classic games like Zelda and Super Mario, but it has modern, smooth movement. The gestures are accurate and quick. This addictive puzzler is fresh and exciting.
The Cloud Breaker iPhone app is a free download from the iTunes App Store, but it forces you to take breaks for a specific period of time. A $2.99 upgrade gives you unlimited access, and it is a reasonable price for an addictive game.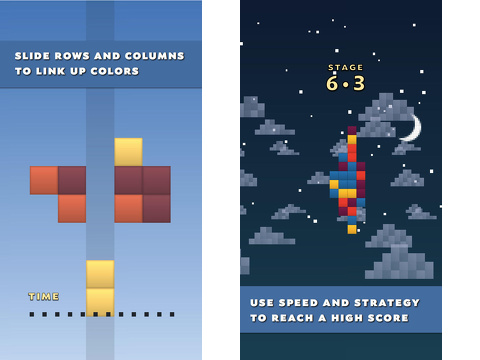 An interactive tutorial introduces the gestures and premise of the Cloud Breaker iPhone app. The sky is the background, and clouds made of white and gray squares float from right to left. Clouds of color squares float across the screen less frequently. You must break apart these colorful clouds by connecting blocks of the same color. You work against the clock to connect similar colors, but you must also try to use the fewest number of swipes possible.
The colorful clouds start with two colors. As you advance, multiple colors are introduced and the clouds grow. The number of blocks for each color is not necessarily equal. You may connect one color in just two blocks, but then you must swipe to connect another color with four blocks. Each disappearing color creates a new puzzle. The constant ticking of the clock across the bottom of the screen motivates you.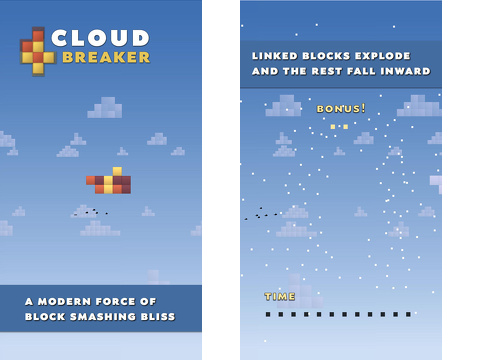 The challenge of working quickly and efficiently creates the addiction to the Cloud Breaker iPhone App. It is not necessarily designed for the casual puzzler. It is fast-paced, and success is not quickly achieved. It is a smart and well-designed puzzler.
This 3rd Party App is available at the Apple iTunes AppStore. Browse the full list of
all AppStore apps
filed under the AppStore category.