Looking for a great yoga workout on the go for cheap? Then Pocket Yoga from Rainfrog, LLC is what you want. At 99 cents, this app will provide a great yoga workout for a fraction of the cost of attending a yoga class. The visuals are very helpful and the instruction is clear providing for a great yoga workout for people of all levels.
One of the best features of this app is the variety of levels, time durations and practice styles. The user can choose between 3 different practice styles, depending on whether one wants to get a power yoga workout, improve flexibility, or flow. Additionally, the two sun salutation series, A & B, give the user the option to practice the more relaxing or more stimulating version of this series Depending on level of ability, all practices are available at Beginner, Intermediate and Expert levels. The user has a choice between 30, 45 and 60 minute workouts for the three main Desert, Mountain and Ocean practices. The sun salutation practices offer even more time length options depending on whether one wants a quick practice or something longer and more in depth.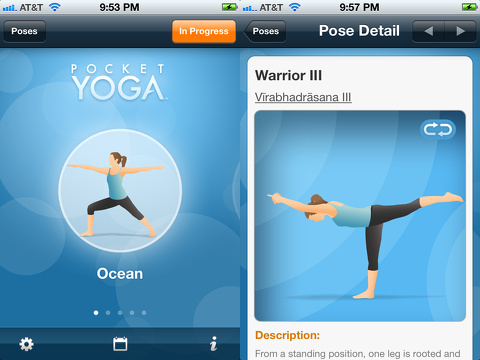 A woman's voice guides the workout with the accompaniment of a soothing, new age-type soundtrack that changes with the flow of the practice. The sound quality is clear and loud enough to allow the user to place their device away from their mat while still being amply audible. The graphics are clean with calming colors in soft blues, oranges and greens for the various background options. A computer-generated yogi woman serves as the physical guide through the poses in the practice, indicating how each posture looks when combined in the practice.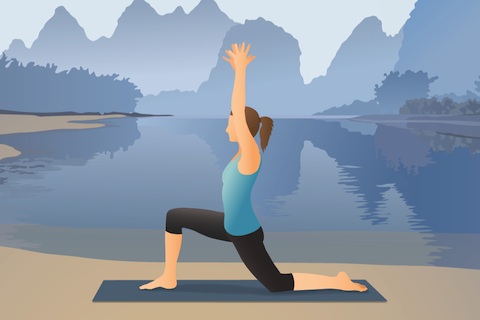 The quality of the yoga instruction is great and provides a yoga practice just as good as in an actual class. The guiding voice gives clear, adequate and easy-to-follow instructions on how to do each pose. The countdown for holding some of the poses can be fast, but the instruction does pay particular attention to instructing the user on when to inhale and exhale in the different poses.
The calendar icon at the bottom center of the main screen indicates the history of the users practice to allow the tracking of progress. By taping the 'Poses' icon at the top right corner of the main screen, the user is able to get detailed descriptions of each pose, their English and Sanskrit names, and instructional pictures. The poses are further categorized by level of difficulty and by body positioning to further educate the user.
Whether one is looking to work up a sweat or improve strength and flexibility, Pocket Yoga for iPhone, iPod touch and iPad has something for everyone.