: Sorry folks! iOSLiveTv has seemingly been taken down yet again. Going to the website now just shows you some annoying ads. Previously, the iOS Live TV website went down for a few days due to copyright issues. A message on the website read "This site has been disabled due to DMCA complaints." The website was then moved to a new server and was up for a few more days before turning into what is now a page full of ads.
A competing service called FilmOn TV was available as a webapp years back and they have since discontinued their web service but require you to download and install their iOS app from the iTunes App Store, with a lot less channels available due to copyright issues.
Here is our archived review of the iOSLiveTV website, previous to its demise:
Wanna watch live TV and cable channels on your iPhone and iPad for free? A new webapp for the iPad and iPhone using SuperTV allows you to watch live streaming TV from anywhere for free. Since this app runs in a web browser you don't need to install anything, and best of all it's all free. The iOSLiveTV page first shows you a list of countries to pick from including United States, United Kingdom, Deutschland, France, Italia, and more. The website is built to allow for easy navigation and picking of television channels, which include top stations like NBC, ABC, ESPN, TNT, CNN, BBC, and more.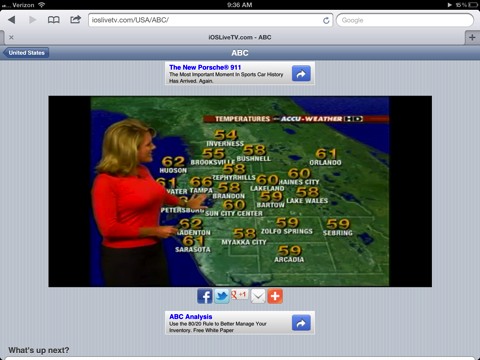 You can get to this web app by opening up http://ioslivetv.com from Safari on your iPhone, iPad, or iPod touch. The page also works on most WebKit based browsers (Safari, Chrome) on your Mac or PC.
The quality of the stream isn not perfect, and there are sync issues between video and audio at times. Some of the channels also don't work at times, but you won't know it until you load the page and see a broken play button on the video. Overall, a nice idea that might be worth bookmarking for times when you want to watch some TV while on the move.