gMusic is a new native app that lets you login using your Google account and listen to your Google Music library from your iPhone. Once you've logged in you are presented with the main app screen which contains 5 tabs on the bottom: Playlists, Artists, Songs, Albums, and Genres. In my case it took a few minutes before the playlists were populated into the gMusic app, but they did load. Browsing is pretty fast and responsive and you can search for anything by keyword. When navigating long lists you can drag on an alphabetical line (like in the native iPhone Contacts app) for quick navigation. Artist pages are shown with all their albums and available cover art, which you can dig further into. There is also an "All Songs" section for each artist which is useful.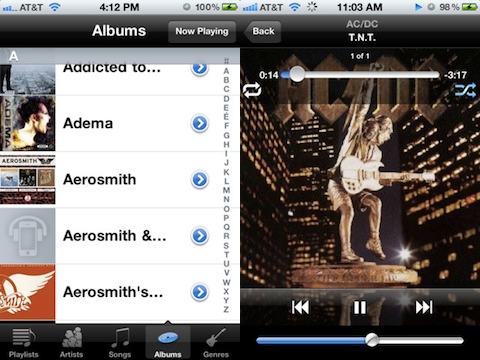 Once you start playing music, a "Now Playing" button appears on top of the app which you can use to get back to the playing screen. The Now Playing screen shows the album art along with pause/play/forward/back buttons on the bottom. You also have a seek bar on top of the screen which can be used to move around the playing track. Tap to enable shuffle, repeat. There is a menu for sending audio out to your Apple TV or Airport Express devices via AirPlay. gMusic supports iPod controls from the iPhone menu and background playback which is a good feature.
Issues with gMusic: First and foremost, the app crashes and freezes here and there. The search functionality doesn't quite work and just keeps you stuck with a keyboard in your face. If you start dragging the seek bar too far into a song, the song just jumps back to somewhere in the middle which is strange. Sometimes when one song ends the next song doesn't automatically start to play. There is no way to create or manage a play queue. The app somehow keeps its own playback queue and sometimes you end up listening to previously chosen songs in the mix, even though you've picked a new artist. There is no way to edit track info, edit existing playlists, or create new ones. Finally there is no log out button provided. Most of these bugs maybe fixed in the next version of the app by the developer.
Overall, gMusic is impressive with its fast load speed, friendly user layout, and responsive execution. It works over WiFi and 3G and if a few more features are added and the stability bugs are fixed, it can become an awesome little Google Music iPhone app.