RollingNote is a new iPad app for learning to play the piano. If my iPad has taught me one thing, it's that my iPad can teach me many many things. Since purchase, I've learnt speed reading, Chinese and basic ukelele chords, all via an innovative range of apps. I could have even learnt to cook. So Rolling Note's new app that tackles one of my long standing todos – learning to tinkle the ivories, had the makings of a godsend.
The app utilises one of the miracles of the modern age, the video game, and attempts to teach via the rhythm action sensibilities that hours of Dance Dance Revolution and Just Dance have instilled in a generation. If you've ever complained that Rock Band is silly in a world where people can just pick up an instrument, then Rolling Note might be able to turn your way of thinking.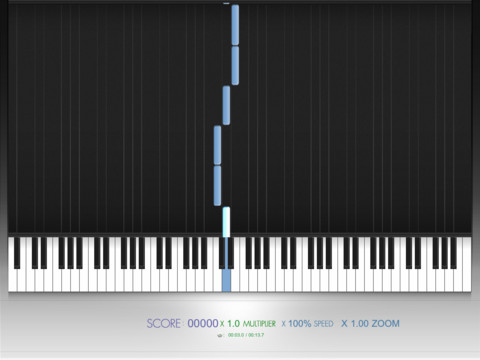 Rather than the fusty old world of traditional notation, Rolling Note employs a innovative new Guitar Hero style system where notes fall down from on high to the corresponding key on the piano, with varying lengths indicating duration. Songs are broken down into chunks – left hand parts and right hand parts, and you can adjust things such as speed, zoom and difficulty. It's important to note that Rolling Note isn't really a piano playing app, so don't fire it up and hope to jam on your favourite tunes. The versatility of the iPad means you could, if you were so inclined, pop it on a music stand of a "real" piano and play along. I hooked up an Akai LPK25 via the USB connection kit and played through my iPad. But don't expect to be able to play with just your iPad.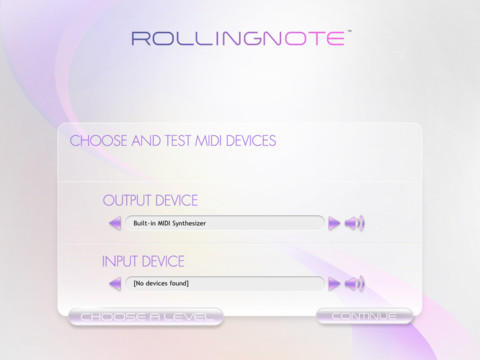 Want a song to play? Well hop on to the online store and download a selection. Lots of the the "classic" piano tracks are there, with some of the more obvious ones such as Für Elise available free of charge. Because Rolling Note believes that artists should be paid for their work (a controversial idea in this day and age) you can buy scores but the prices are on the low side ($1 or $2). However when I checked there were only about 38 songs in the catalogue which is a little on the small side. One the plus one of these 38 was The Entertainer and it was for the low low price of $0.00 so it's hard to grumble.
What's not to like? Well although the system is innovative, the app itself is a little backward. You can't load songs directly from the app and have to jump back and forth from the web interface, which, whilst not the greatest inconvenience is a little annoying. To be fair I'm not sure if that's just to circumvent Apple taking a cut. The app was also a little buggy and crashed a few times when I was taking it for a spin. And the in-app controls lack visual polish and are a little clunky. Things like zooming in are done with old-fashioned arrow keys, instead of the pinch to zoom, and therefore feels a little unnatural on a touchscreen device.
So while there's a lot to be send for Rolling Note, a limited catalogue and slightly unpolished app leave the whole experience feeling slightly off-key.