You might remember VirSyn from the pretty amazing iVoxel, which brought an amazing combination of a voice optimised synthesiser and a vocoder to your pocket. Well they weren't content to rest on their laurels and have just released Harmony Voice a harmoniser for iOS devices.
Harmony Voice is a pitch shifter and harmoniser with a host of "professional features" including automatic tuning correction. Much more than a just a toy (although it is fun to play with), Harmony Voice Four part realtime Harmoniser / Pitch corrector that enables you to become a one man/woman barbershop quartet (a barbershop singlet?).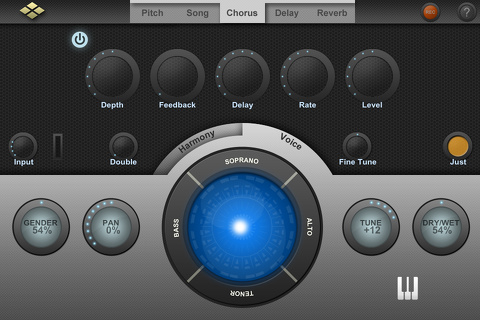 There's a built-in keyboard so as you sing, Harmony Voice can sing along with you, automatically enriching the sound of your voice with … well harmony. As you sing Harmony voice adds up to four voices depending on what you play on the keyboard. This is impossibly small on the iPhone but serviceable on the iPad. The best scenario is to break out a 30-pin to USB connector (will there be a Lightening to USB connector some day as daisy-chaining a lightning to 30 pin to usb to get a keyboard working is pretty silly) and attach a USB keyboard. You can use a CoreMIDI compatible Interface to control Harmony Voice with a MIDI Keyboard.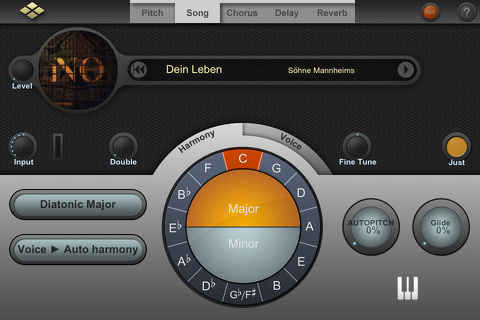 If you're not a keyboard player you can let Harmony Voice play chords automatically. You just have to hit the base note and Harmony Voice will add the appropriate chords. Whilst singing you can fiddle with key notes and scale for harmonisation and pitch correction – so you can do some pretty interesting chanting or drone effects. If you wanted to add some atmosphere to your doom metal it's definitely worth investigating.
There's a realtime visual intonation-display gives you feedback of the tunes you sing – much like when you play Singstar or any similar karaoke game. There's also a gender dial so you can adjust your voice to sound more "male" or "female" according to preference. Some of the more extreme female sounds tend to get a little chipmunky but at the moderate end of the scale it's not hard to imagine there's a lady or Barry White-a-like in the room with you. There are only a few built-in effects – Reverb, Chorus and Delay but they sparsity is offset by the quality. The room simulation on the reverb alone is pretty impressive.
Sticking with the karaoke theme, you can load a background track from your iTunes library and sing along. I loaded a scratch track I'm made in GarageBand and then sung over the top, before Audio pasting the recording back into GarageBand (iPads are clearly no longer toys).
Whilst you can sing via the built-in microphone it's noticeably better using a dedicated bit of kit. I tried with both the iRig Mic and the Blue Mikey and it sounded spectacular. I would probably prefer the iRig for vocals (it just feels better) but the Mickey is great if you are using Harmony Voice for other types of audio. You can export sounds as *.wav files and export to iTunes or SoundCloud. But sadly not DropBox.