News Junkies, read this review, go directly to the App Store, and download the Scoople iPhone app (previously known as iDygest). Scoople is a free social powered news app that gathers news stories from different outlets, combines them, and gives you the opportunity to express your opinion.
You can sign into Scoople via Twitter, Facebook, or your email address. The interface and navigation is straight-forward and agile, like Pinterest and Instagram. You move between news feeds and profile via the menu bar at the bottom of the screen, and you filter and refine by gesture controls at the top of the screen. Scoople's interesting navigation feature is a one-touch category bar on the right side of the screen. The types of news stories, like Apple, Politics, Tech, etc. expand onto the screen. With a touch, you move to that genre of articles.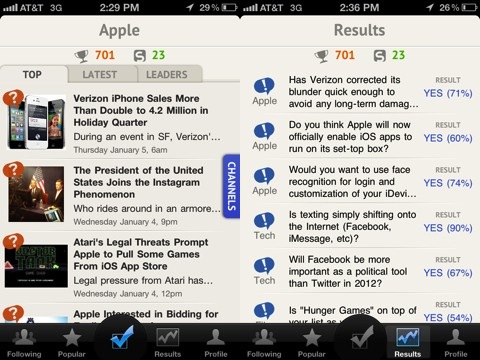 Scoople's iPhone app brings a cool perspective to news articles. Essentially, Scoople combines the scoop from different news outlets' stories on the same topic. For example, a news story about the same campaign stop for Mitt Romney combined pieces from articles on MSNBC, Wall Street Journal, CNN, CBS News, Washington Post, NY Times, The National Journal, Mediaite, and AP. Each piece is appropriately cited, and you can link back to the original source. Instead of going to several different apps or websites, Scoople's iPhone app synthesizes and presents the news succinctly and effectively. With one touch, you can share Scoople's articles with Facebook, Twitter, Instapaper, and email with your existing social network.
Scoople's iPhone app also encourages you to express your opinion via polls related to the stories. As you vote, you earn points and become a leader. Instead of becoming mayor by drinking beer at the pub down the street a la Foursquare, you become a leader by participating in polls. And, like Twitter, you accumulate followers and follow others to enhance and build your social networking experience.
Currently, Scoople covers a limited group of news categories–Apple, Canada, Celebrity, Film, Gaming, Green, Politics, and Tech. As the Scoople iPhone app expands its reach in content, it will broaden its appeal. The Scoople iPhone app brings a fresh, fun perspective to news and social media.