Politics junkies can satisfy their polling fix with the PollTracker iPhone app. The PollTracker iPhone app analyzes multiple polls to give you a more accurate picture of the hottest races, referendums, and daily swing state inclinations with nicely organized and easily navigated interface.
When you open the PollTracker iPhone app, you can currently select to make the 2012 Presidential Race your home page. Mitt Romney and Barack Obama's faces are on either side of the percentage lead. The leader's face is larger and resides on the left side of the screen. When you touch the percentage lead, you move to a screen with a list of the polls used to create the percentage lead. Each poll in the list format has the percentage, source, and date. You can touch a poll, and you are transported to a new screen to glean even more information like the number polled, margin of error, and dates conducted. From this screen, you can also share with one touch to Twitter, Facebook, and email. You can also check out a graph detailing the history of the race by touching the trend chart icon for each race. This is the standard layout for almost all races and referendums covered by the PollTracker iPhone app.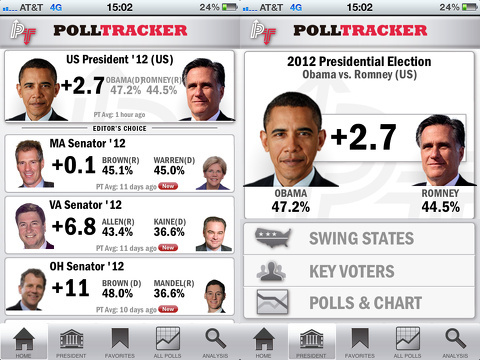 The true success of the PollTracker iPhone app is its ability to pack technical data into a neat, tidy interface. As you unfold more details for any race or referendum, you can always press the back arrow at the top left of the screen, or you can move to a new category with the always visible bottom menu bar. The bottom menu bar is reminiscent of Instagram where you can move to a new category–home, president, favorites, all polls, and analysis–in one touch. The home screen spotlights the 2012 Presidential Race and a curated list of the hottest 2012 races. You can check out details for the 2012 Presidential Race including interesting perspectives on the candidate revealed by polls. If you're curious to know which candidate is perceived to understand people's needs or makes a strong leader, then
you can examine that information from the President icon. The all polls icon incorporates nice search and sort features where you use touches and swipes to scroll through each state and type of race. The analysis icon connects you to PollTracker blog content explaining the trends of popular races.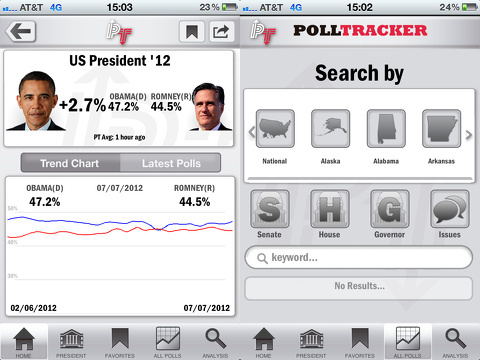 The PollTracker iPhone app is certainly well organized, but it does suffer from slow load time. I tested the PollTracker iPhone app on different wi-fi connections–some slower, some faster–and it always had a lag. The excellent documentation and sourcing, as well as the nicely articulated insight, do off-set the lag. With an mprovement in speed, the PollTracker iPhone app would be a 5+.