Put on some tea, grab some biscuits, and get ready to peruse the news in true British fashion with the Economist app. The Economist Group is responsible for publishing their flagship weekly magazine, one of the biggest news publications in England. Their mission statement describes "a severe contest between intelligence, which presses forward, and an unworthy, timid ignorance obstructing our progress".
Do not be mislead by the name, the publication offers more than just business and finance related news. The Economist covers a wide range of topics across various aspects of world news in a prim and proper fashion, so you won't be finding any cockney slang around here. The app's home screen lets users scroll through recent Economist covers to select which issue to explore. Once a choice has been made users are granted limited free access to about six free articles. Advertisements are thrown in throughout parts of the app, however you will never be bothered with one while actually reading an article. There are a few customization options like adjusting text size and flipping the color of the text and background between white on black and black on white (Tip: go with black background and white text, its easier on the eyes). The orientation can also be locked from within the app, so you don't have to go to your own dock settings to portrait lock your entire phone.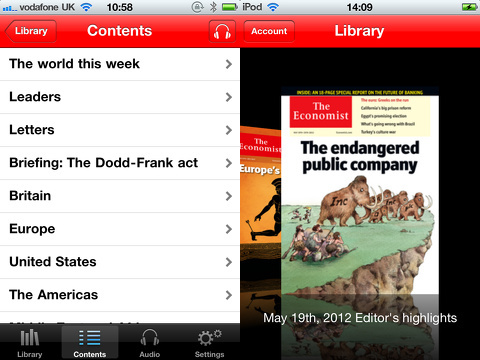 The app offers recordings of all articles published in their magazine, so you can even enjoy listening to their articles while driving on the wrong side of the road or sitting on the loo. Sadly, none of the articles seem to be narrated by Michael Cain, but it is a great feature for the app nonetheless. The settings screen lets you select the number of issues you want stored, the number of audio issues you want stored, whether you want issues automatically downloaded, and separate options for downloading audio and video as well as wi-fi and 3g.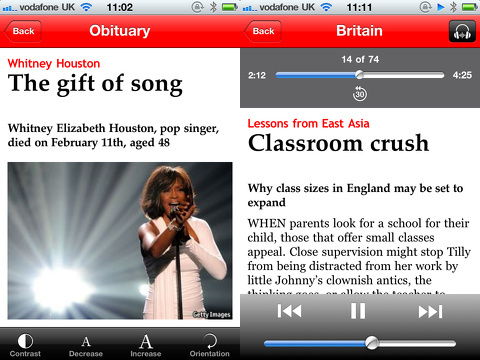 As mentioned, a selection of Editor's highlights articles are available for free, while the rest of the issue must be purchased separately. Purchasing a full issue also comes with audio of the entire issue. A single issue costs $5.99, and there are also options of choosing from an annual subscription at $129.99 or quarterly (13 issues) for $39.99. This is quite expensive, and would clearly only be valuable to the most dedicated of Economist readers. At any rate, the free version with Editor's Highlights is definitely worth a download for anyone interested in getting a taste of some quality limey news.
This 3rd Party App is available at the Apple iTunes AppStore. Browse the full list of
all AppStore apps
filed under the AppStore category.