NextDraft – The Day's Most Fascinating News is an iPhone, iPod Touch, and iPad app curating the top ten articles of the day. The articles are selected by Dave Pell whose passion for news and information leads him to read, assess, and share his favorite pieces from the nearly sixty websites he visits every day. With simple interface and smart tools, you can quickly read intriguing, insightful articles.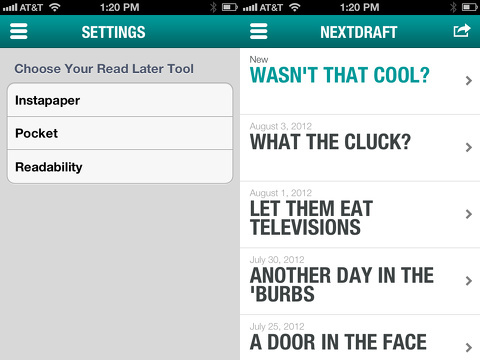 The NextDraft iPad app opens to a sophisticated, clean home screen. A chic, modern graphic interpretation of Dave Pell fills the left side of the screen. Each day's entry is concisely presented in a matrix grid on the right side of the screen. The entry has a headline and date. You simply touch the headline to access the content. From the home screen, a sliding left menu bar allows you to access a contact form, establish your read later settings, and learn more about Dave Pell. You can set Instapaper, Pocket, or Readability with one touch.
The content of the NextDraft iPad app is presented in bright, uncluttered interface. There is a brief introduction to each article selected to give you an idea of the article's premise and what motivated Dave Pell to include it. You can change the font size on the home screen by touching the text icon at the bottom right hand corner of the screen. A link for each article opens it within the NextDraft iPad app. This interface is reminiscent of Pinterest. The coolest tool is the ability to eliminate all of the visual clutter of the article's website with a touch on the easy chair icon. You no longer have to see ads, navigation tools, and all of the other items that frame a typical online article. The sharing icon for each icon holds impressive one touch features. You can send to Twitter, Facebook, email, and SMS. You can also read later, view online, and copy to clipboard. You access all ten featured articles by swiping the screen horizontally. The navigation is beautiful, agile, and intuitive.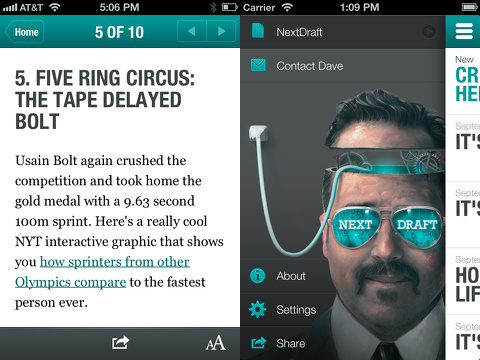 The articles included in the NextDraft iPad app are stellar. Articles are a fascinating blend of parenting, tips for being cool, scandals, politics, pop culture, technology, science, media, and virtually any other topic presented with insight and clarity from a range of online sources.
The NextDraft iPhone, iPod Touch, and iPad app is a free universal download from the iTunes App Store. It's a must-have for curious minds.