The NYT Now iPhone app is a smart, sophisticated resource for the day's headlines and news. It sets itself apart from online news providers' apps with its clean interface and context-driven focus.
The NYT Now iPhone app streamlines and simplifies the full NYTimes.com experience. The editors select must-read articles to create your news feed. There are three simple icons at the top of the page. The NYTimes.com icon is your feed. The angled arrow icon is a feed of quality articles chosen by NYTimes.com editors from other sources. The bookmark icon leads to bookmarked articles for subscribers. You can tap the icon to change the feed, or you can swipe horizontally between them.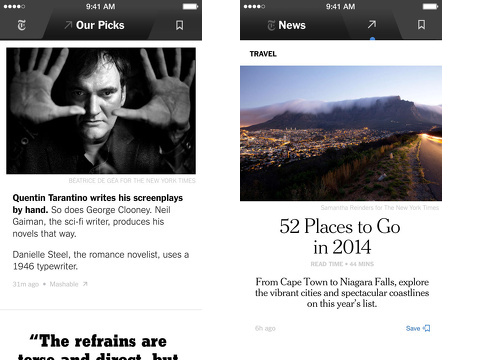 Unlike other news providers, you will not spend time choosing categories to customize. Instead, the NYT Now iPhone app gets you the day's most important headlines and their stories. There are daily round-ups in the morning and evening to summarize the main news stories and happenings from around the world and financial markets. The synopsis and bullet points from the daily briefings provide great, concise context and perspective. In your daily briefings, articles are hyperlinked for you to dig deeper into stories.
Each news event has a title, and the content may be more than just a story. Frequently, it is just a story. However, an event may have multiple articles that are grouped in your news feed. Also, interesting videos may be featured. A great photo may frame an article, but every item has a synopsis for dimension. A cool feature is the lunchtime read. An unexpected article with the time required to read is featured in your feed.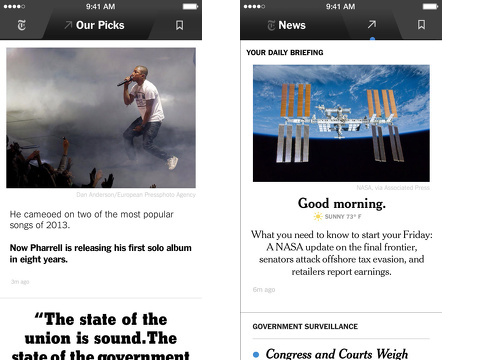 For each news article, you will find a smooth, agile layout. The photo and author are featured at the top of the screen. The article follows free of the visual clutter of an online experience. The menu bar at the top of the screen allows you to bookmark and share to SMS, email, Twitter, and Facebook. A similar, clean interface plays featured videos.
The NYT Now iPhone app is a free download from the iTunes App Store, and you can access 10 articles free per month for free. A monthly subscription can be purchased in-app for $7.99. Currently, the first month is free. If you are an existing nytimes.com subscriber, then you will want to check your details for access.
The NYT Now iPhone app is well-crafted and tailored to those who like to be informed, but don't want to sift through all of the internet's noise. It is also a great interface to attract younger, new subscribers.