Orchestra ToDo for iPhone combines voice recognition, hashtags, and email to create an incredibly useful and agile to-do list app. There is a small learning curve to get the most out of this app, but in short time, it will become the first thing you check before you get out of bed in the morning.
You can access Orchestra ToDo online at orchestra.com and on your iPhone. It automatically syncs any changes or modifications swiftly, so you will not miss a moment or an item on your to-do list. You can sign up for the app at orchestra.com or via the iPhone app. The welcome screen for the iPhone app touts all of the fantastic features of the app including voice recognition, task sharing with folks without an orchestra.com account, and turning emails into tasks. As I started to follow the prompts to enter my first task, I thought the features were great. But, there was still a missing piece. I couldn't maximize all of the features, until I checked my inbox for the welcome email. And, wow, that was an incredibly well-crafted, helpful email. The developers at Orchestra Inc. articulated the highly customized features and capabilities concisely and clearly.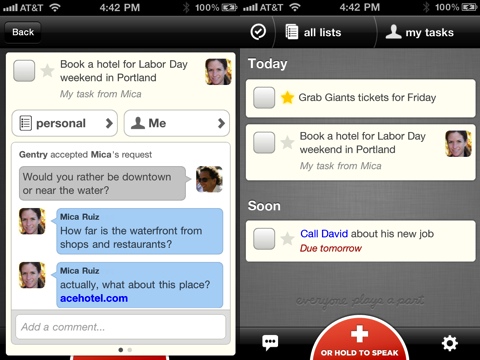 This is not an app to jump into feet first, if you want to use it to its fullest potential. And, let's face it, staying on top of all of our daily tasks is not simple–work, kids, house, activities, responsibilities. And, usually, you're sharing some responsibilities with others in your life. In the settings menu of the app, you create the types of list you need to maintain and who you would like to add to help you execute the tasks. Definitely, you should take time to think about how to best organize your tasks, since Orchestra ToDo's iPhone app does allow you to customize.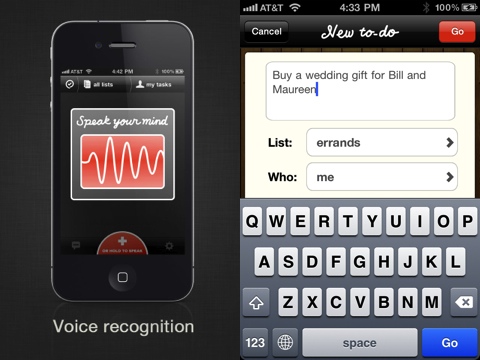 You can add tasks four ways with the Orchestra ToDo iPhone app. First, you can simply hold down the plus button on the home screen to activate the voice recognition software. Second, you can add tasks within the app on your iPhone. Third, you can add tasks online at orchestra.com. Or, finally, you can transform your emails into tasks using hashtags and a handful of certain phrases to add them to your orchestra account straight from your inbox. Adding a task via email is super cool and amazingly useful. You forward your email task to tasks@orchestra.com. You can categorize and prioritize using specific codes set forth in your welcome email. Once you use the Orchestra ToDo iPhone app for a couple of days, the prompts will be stored in your brain's long-term memory. If you collaborate with a spouse or a business partner, you can also share these tasks and update your Orchestra via the email functions as well.
The interface and functionality of the Orchestra iPhone app's home screen is efficient and attractive. You can filter your tasks with a drop down menu and two touches on your screen. You can choose to see all lists or specific lists with a pull down menu. The pull down menus on Orchestra's home screen are not only responsive, but also they are large enough that your touch on the screen is more accurate.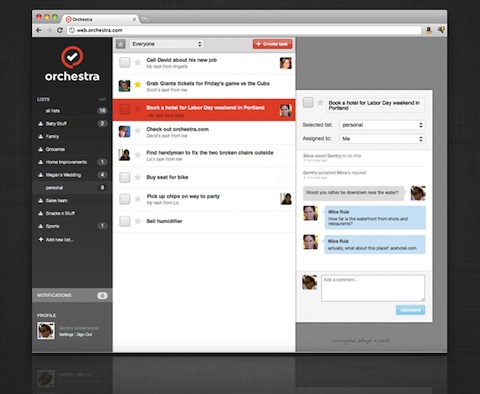 If you find your inbox filled with tasks and you constantly remember everything you have forgotten to do on the go, then Orchestra ToDo's iPhone app will be your best friend.