Nostalgio's universal download app transforms the photos on your iPhone and iPad into attractive photo collages. With simple interface and excellent results, Nostalgio brings a creative perspective to your photography.
You'll appreciate that you are not required to do a bunch of laborious email and registration set-up items. From the home screen, you start the quick, easy process. You can choose to frame and arrange the photos, or you can start with the specific number of photos you want to place in a collage.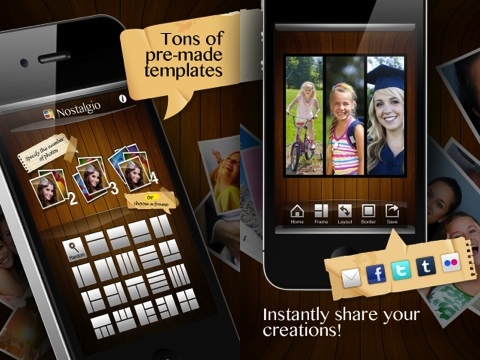 Once you make a selection, you move to the second screen to finalize details. The Nostalgio app automatically and randomly selects photos from your photo albums. To change the photos, you tap the specific photo. You can select to take a photo from the camera within the app as well. Interestingly, you can activate the camera to take photos in all photo slots at the same time, so the Nostalgio photo frame blocks certain parts of what you are shooting. It's a neat way to give an artistic perspective to your collage. And, of course, you can select photos from your photo albums. If you choose to modify the image, you can add graphic interest by changing the photo to black and white, sepia, or a cross process effect.
The Nostalgio iPhone and iPad app also provides great, simple tools for enhancing your collage. You can change to a square, landscape, or portrait shape. You also have the choice of five borders, or none at all. The borders are nice choices, but not spectacular. Some additional choices would certainly be a welcome upgrade to the Nostalgio universal download.
The sharing options are thorough and quickly manipulated. The sharing screen has a familiar layout, as it is much like the Instagram share screen. You can add a description where you can add hashtags and any other pertinent keystrokes. You can save to your photo album or email, as well as share to Facebook, Twitter, Tumblr, and Flickr. Bloggers and marketing pros would certainly find the Nostalgio app to be a useful tool in adding visual interest to their online presence.
Nostalgio's iPhone and iPad app makes the process of creating a photo collage accessible to those who don't scrapbook well. But also, it's a great app for elevating your iPhone and iPad's photography.