The Dynamic Light iPhone app is an edgy, ultra-modern blend of Hipstamatic, Snapseed, and Luminance. The interface is similar to Hipstamatic with its lens and on-screen adjustments, and the effects are similar to Snapseed and Luminance. Dynamic Light, however, brings a darker, edgier functionality and capability to the world of photography apps.
The graphics and movement of the Dynamic Light iPhone app revolve around the home screen. The distinctive camera graphic on the home screen is striking. The light filters just below the camera lens remain on the screen at all times, so you can constantly manipulate the effect of light on your image. The other tools of the app are accessed at the bottom of the screen. As you select tools and effects, sometimes you move to another page, sometimes you do not. With Dynamic Light, you are moving back and forth between screens and tools to make changes and adjustments to your photo.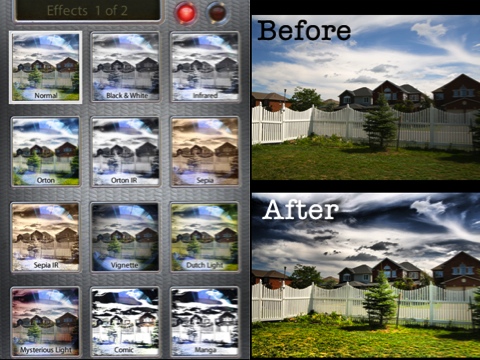 There are three pages of effects to check out. Each of the effects has a small photo to give you a taste of the way your photo will be manipulated. You simply have to choose one, in order to apply it to your photo. Since there are so many selections and you have to select an effect to see it processed, this is not an app that moves super quickly. The complexity of these effects would probably result in a less-responsive performance, if your photo adjusted to each effect through a scroll. The developers made a wise decision with this functionality.
If you are a fan of comics, noir, and manga, you'll find selections that reflect your aesthetic. Many of the selections play with light, texture, and image manipulation in a much more dramatic fashion than Snapseed, Luminance, Hipstamatic, and Instagram. There is a sketch tool, as well as exaggerated motion and ultra-modern perspectives.
Once you have selected the effect, you can continue to manipulate the light by moving your finger along the graphics on the home screen. To continually compare your Dynamic Light iPhone app image to the original, you can select to monitor the original and result in a split screen. You can save the Dynamic Light iPhone app image and the original. A nice upgrade would be to share directly through the app to Facebook, Twitter, and blogging websites.
The Dynamic Light iPhone app is an excellent addition to your photography app stash. The $0.99 investment allows you to create complex, highly stylized photography with a simple, compelling interface.