If you are looking for a simple iPhone app to convert your photo to a sketch, then Instant Sketch is a great choice. I was lucky enough to catch it on sale for free, but for $0.99, you have a excellent tool at your fingertips.
The Instant Sketch iPhone app moves quickly and easily. I love the graphics of this app. It is based around a simple, old-school cork board with a bright red tack to hold your sketch in place. The graphics are definitely 1980s inspired, but have the modern touch to make the 1980s look as cool as they really were.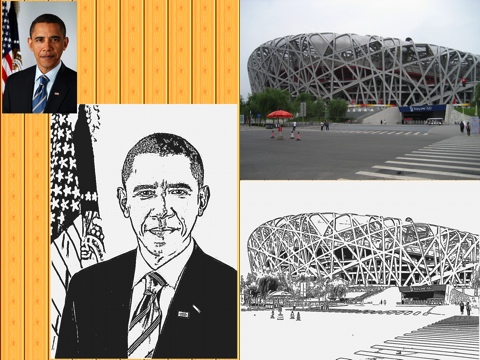 You can shoot a photo in the Instant Sketch iPhone app, or you can use an existing photo in your device's library. On my first run, I used the default settings to create my Instant Sketch sketch. I was pleased with the result. You choose a photo, and it is instantly processed. Your sketch is ready to save and share. Then, I adjusted my settings to allow an additional "HD" process for another photo. I preferred this result–more exaggerated, comic, manga style. It is referred to as a three-tone sketch, but really it just added more volume and texture to the sketch. Compared to other manga styles and applications in other photography apps like Dynamic Light, the effect of the manga selection in Instant Sketch was certainly softer.
The Instant Sketch iPhone app incorporates excellent features to share and save your sketch. You can save directly to your iPhone's photo stream. You can email directly from the app, as it syncs with your iPhone's contact list. With one touch, your sketch becomes the background clipped to your Instant Sketch virtual cork board. Your sketch may also be shared directly with Facebook and Sina Weibo, a popular social networking and micro-blogging website and application in China.
The Instant Sketch iPhone app is so simple your mom might be able to use it without sending you a zillion text messages or requiring a conference call. It really does instantly transform your photography to sketches.
This 3rd Party App is available at the Apple iTunes AppStore. Browse the full list of
all AppStore apps
filed under the AppStore category.