If you love Steampunk and want to bring that vibe and energy to your photography, then you'll want to check out the universal app for iPhone and iPad Steampunk PhotoTada! You too can do in Peoria what they're doing in Brooklyn.
The Steampunk PhotoTada application interface is, as expected, completely steampunk. It's dark, vintage, and filled with hidden functionality in its nooks and crannies. The visual impact is incredible. The left side of the screen is filled with the tools and instructions to incorporate and enhance your photography. The right side of the screen regulates the sharing features and hints from the developers at Light Paint Pro. You can share with flickr and Facebook from Steampunk PhotoTada! The sharing features could certainly be enhanced to incorporate Twitter and blogging tools. You can, of course, save to your iPhone and iPad, or email with just a few touches. You have the full integration of your contact list to quickly and easily email.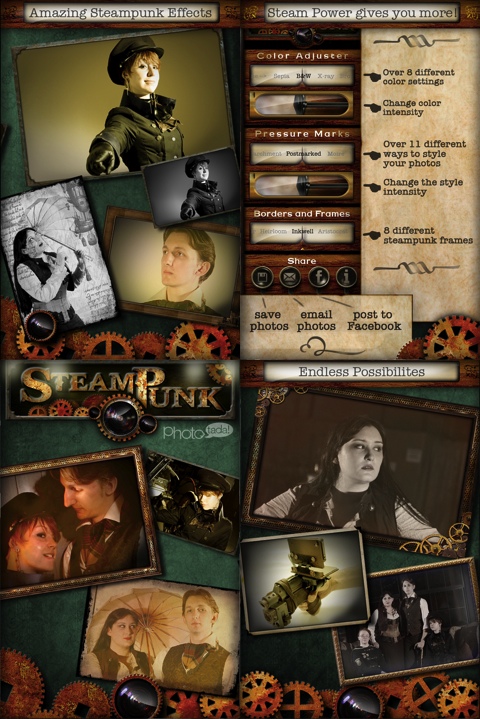 To start steampunking your photography, you can select a photo from your iPhone and iPad library, or you can shoot a photo from within the Steampunk PhotoTada! app. Your photo uploads quickly and contains a moderate amount of Steampunk vibe. With just three adjustments, you can further fine tune and steampunk your photo. You move your finger across a bar to adjust the light, the splotches, and the photo frame. The light adjustment essentially adds a shadow or cloud-darkened effect to your photo. The splotches, referred to as "grease," can be intensified or reduced. The splotches remind you of places where the film has not been exposed properly. The Steampunk PhotoTada! universal download has a collection of borders and frames to add that final steampunk touch. All of the adjustments and changes take place quickly. Fortunately, there is very little processing time. The interface is all on the same screen, so you don't have transitions from screen to screen to navigate.
The Steampunk PhotoTada! app for iPhone and iPad combines a simple user-experience and a complex photo effect. Steampunk seems to be a sometimes laborious, time-consuming process to transform and create Dickensian-inspired photos, jewelry, and decorative objects. The Steampunk PhotoTada! universal download makes it easy to steampunk and accessible to everyone with an iTunes account.
This 3rd Party App is available at the Apple iTunes AppStore. Browse the full list of
all AppStore apps
filed under the AppStore category.