Instant 110 is an app that imbues your iPhone photos with the vibe of vintage instant photography. It has a more limited scope to its tools and effects than Hipstamatic and Instagram, but it has some distinctive touches. Other iPhone photography apps will want to check out its tools to emulate and enhance user experience. The Instant 110 iPhone app is all about flexibility and ease of use. It operates quickly and intuitively, and you get to decide how and when to dive into the excellent features.
The Instant 110 iPhone app opens with the in-app camera ready to shoot. One of the best features of this app is the ability to shoot a lot of photos quickly. You don't have to spend time toying with the effects, saving, and sharing. You have the freedom to take multiple shots, then return to the app to make adjustments. There is no lag time moving to the next screen, then clicking back to the camera. I don't feel like I'm missing shots with Instant 110. It just shoots, shoots, and shoots–no interruptions. With Instant 110, you can also pull up existing photos from your iPhone library.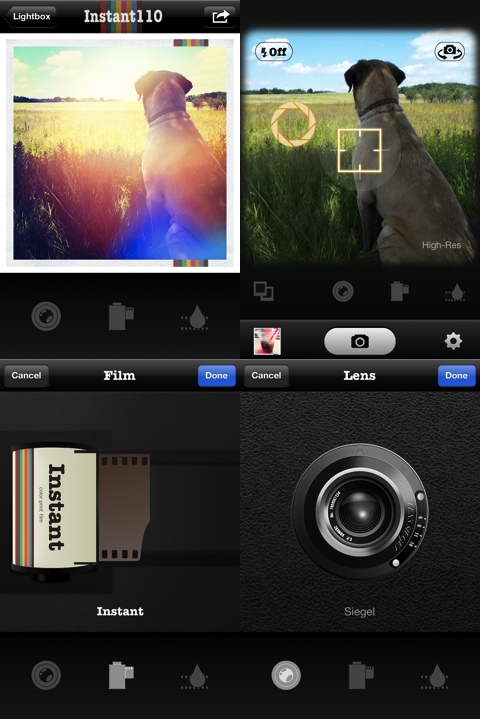 You can choose to adjust the Instant 110 iPhone app effects and settings before or after you start shooting photos. This dynamic interface sets Instant 110 apart. If you don't care for the effects in a photo you take with the app, then you can open the photo and make changes. You choose between several different lenses that are intended to emulate sophisticated camera technology. You also choose the type of film you want to use. Again, the film includes black and white options and others with varying exposures. These options are displayed with visually-interesting graphics that can be easily scrolled and selected with responsive finger controls. You also have the ability to increase or decrease the intensity of the developing process with a swipe of your finger on the screen. The simple adjustments bring depth and texture to your iPhone photography.
Some of the effects require an in-app purchase to access features. The tools and effects are reasonably priced at $.99. However, I was impressed with the excellent capabilities of Instant 110 without additional purchases.
The opportunities to share and save are incredible. With so many options, the Instant 110 iPhone app manages them beautifully. You can save to the iPhone app, your libraries, open in Instagram and other apps, and share via email, Facebook, Flickr, Picasa, Tumblr, and Twitter. The Instant 110 iPhone app gives you five different resolutions from which to choose. This is an excellent thought and functionality.
Instant 110 is a flexible and dynamic iPhone app to enhance your photography with great spirit and a chic vintage touch.