The Alt Photo iPhone app breaks the mold with rich, complex effects and engaging interface to breathe new life and energy into iOS photography apps. The developers at Alien Skin Software have cultivated depth and interest with its delicate gesture controls and nuanced navigation for just $.99.
The Alt Photo iPhone app requires authorization to access photos and location services for effective operation. You can select from photos in your iPhone library, or you can snap one with the in-app camera. You are transported to the image with a menu bar at the top and bottom. There are three icons on the top menu bar to access a matrix grid of filters, framing options, and light adjustment. When you tap one of the three icons, then the interface adjusts to allow you to customize your photo. The framing options and light adjustment tools are quickly manipulated. You drag your finger across the image to adjust the light. The framing tools and light adjustment tools are nice inclusions, but they are not the most remarkable aspects of this iPhone photography app.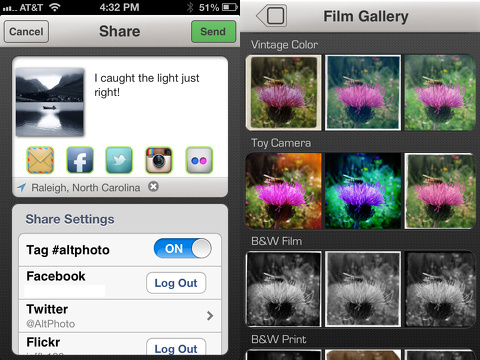 Remarkably, the Alt Photo iPhone app gives you four different options for navigating through the photo effects. You can touch the matrix icon at the top menu bar, and six categories with six filters can be scrolled with horizontal finger gestures. The much more interesting way to examine the photo filters is from the main screen of the app. You can scroll with horizontal, vertical, and diagonal swipes on the screen. Your photo constantly changes with each agile gesture control. These gesture controls make you feel part of an artistic process where you are immersed, digging, and developing your image.
These photo effects are striking, unexpected, and an exciting inspiration for future iPhone photography apps. The six categories include Color Film, Vintage Color, Toy Camera, B & W Film, B & W Print, and B & W Vintage. The effects are spectacular. The color effects are beautifully saturated with complex textures and light applications. The black and white effects are sophisticated, yet rugged.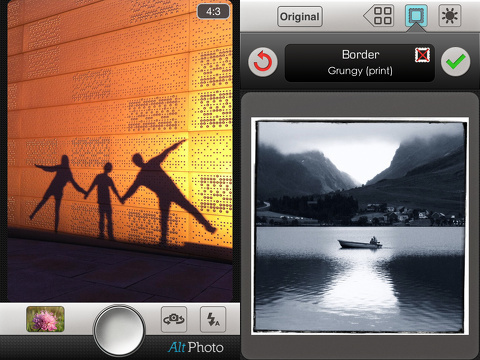 The bottom menu bar allows you to save to your camera roll with one touch and share your photo. The icon to snap a photo becomes the share icon in the main screen, and it is embedded in the bottom menu bar. The sharing screen is concise and well-crafted. Your image with the chance to type a caption is located at the top. Your location is automatically loaded, but you can remove it with one touch on the "x" icon. You can share by email or with Facebook, Twitter, Instagram, and Flickr. The photo caption contains #altphoto, but you can also remove it with one touch prior to sharing.
Alt Photo is truly a next-generation iPhone photography app with its incredible effects, brilliant navigation, and beautifully simple sharing tools.