: The Facebook app version 5.0 was released on August 23rd 2012. This release has added significant performance improvements over the previous versions of the iOS app as they've actually rebuilt the app from the ground up this time around. You'll notice that scrolling your news feed is now faster and feels smoother. You can now also tap the banner to quickly see your new stories, instead of having to refresh the tab. Open photos quicker and close them with a simple swipe down. Notifications have also been revamped in 5.0 to give you instant access.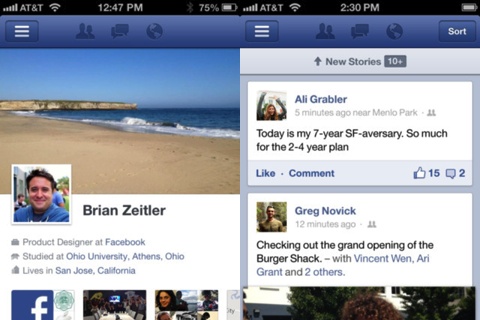 Here are some actual visual changes we've noticed so far in testing the new version of the Facebook app:
– The left navigation opens and closes much faster on the iPhone.
– You can now post Status/Photo/Check In from your News Feed as well.
– Messages and Notifications actually go away after you read them unlike before.
– You will also now notice a lot of "loading…" screens on top of your feeds, which is the app trying to update its feed automatically.
Technically speaking, the new version of the Facebook app has moved away from using HTML5 and the UIWebView and moved towards using native iOS for its application codebase. This gives the app a much faster performance since native iOS code allows the app to use the full power of the CPU and GPU in the device. You can read more about what changed under the hood on the Facebook website.
Below are the original Facebook app screenshots, updates, and review for your reference.
: On Wednesday 8/18/2010 Facebook rolled out Places, and on the 19th the iPhone and iPod touch app were updated with the new Places icon. Using Facebook Places you can checkin from where you are, and also see where your friends have checked in. The loaction based service is similar to that of foursquare and Gowalla amongst many others in the geotracking genre of services. Once you grab the update, the new Places feature might not be ready for you yet, if you see this message "This feature will? be available in your region soon" the you'll have to wait till Facebook releases it for your area. Most of the U.S. should have places in about a week.
: Facebook is going to be adding photo and video sharing features to their iPhone app soon, which is aimed at competing with new iPhone startups such as Instagram, Path, With and Color. TechCrunch today revealed screenshots of the photo sharing additions coming to the Facebook iPhone app which are duplicated on the iPad side with the native Facebook iPad app.
Facebook has been on the iPhone for a long time now, with the free Facebook app giving you quick and easy access to your Facebook status updates, friends, messages and more. Masterminded by famous developer Joe Hewitt the Facebook iPhone app the updates 3.0 version is now out which utilities the 3.0 OS on the iPhone to add a ton of new functionality. The visual interface of the app had improved somewhat and a bunch of new features have been added. Here is what is included in the new version of the Facebook app for iPhone.
The 3.2.1 Facebook app has a simple icon based homepage with a 3×3 grid of 9 icons. These icons are: News Feed, Profile, Friends, Inbox, Chat, Requests, Events, Photos, and Notes. For convenience, tapping the grid like icon in the top left always takes you back to this screen. There is also a blank second page where you can customize shortcut icons linked to profiles of your favorite Facebook friends. "Who's on your fave 9?"
What's New in Facebook:
– Places
– Push Notifications
– Updates for iOS 4 Fast App Switching
– Landscape Mode
– See your upcoming Events and RSVP
– See your friends' birthdays
– See Pages and post updates and photos to Pages you administer
– Write Notes and read your friends' Notes
– Upload videos from an iPhone 3GS
– Upload photos to any album
– Complete photo management (create albums, delete albums, delete photos, delete photo tags)
– Change your Profile Picture
– Zoom into photos
– Like posts and photos
– See the same News Feed as the Facebook website
– Visit links in a built-in web browser
– See all of your friends' friends and Pages
– See mutual friends
– Easily search for people and Pages
– Make friend requests
– Become a fan of Pages
– Quickly call or text your friends
– Create shortcuts to your favorite friends and Pages
– Friends sorted by first or last name according to your settings
– Chat friends sorted alphabetically
– High-resolution icons
– Korean and Russian localizations
– Minor bug fixes
Here is a video demo of the Facebook 3.0 app on the iPhone

This 3rd Party App is available at the Apple iTunes AppStore. Browse the full list of
all AppStore apps
filed under the AppStore category.