If you are searching for voice over talent for clients or your business, you'll want to check out the Voices.com app for iPhone and iPod Touch. You'll find great information, demos, feedback, and opportunities to request quotes from voice talent worldwide, so you can consult with colleagues and clients with the help of your iOS device.
The Voices.com iPhone app puts all of the information you need at your fingertips to make informed decisions about your voice talent. You can search through the top 100 rated voice over talents, or you can search with specific parameters from the home screen. If you have a Voices.com account, then you can sign in with that information to access your online information as well. The top 100 list can be searched by most listened, most hired, and favorites. The top 100 list has the name and a quick description of a voice talent's strongest attributes. To learn more, you simply touch the name to access the resume. If you want to use the search option, you filter by categories like podcasting, videogames, radio, internet, educational, television, and more. The search bar at the top of the category allows you to define your parameters with keywords. If you are looking for a confident German speaker, then you'll find one in Voices.com's iPhone app.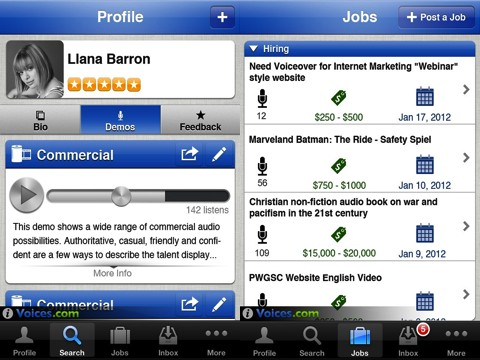 The voice over talent's resume is both thorough and easily navigated. For each person, there is a photo, name, rating, and opportunity to request a quote. Below these items, you can touch three different icons to access bio, demos, and feedback. The bio lets you know more about the voice over talent's background, strengths, and experience. Each talent has the opportunity to list languages, accents, ages, and special skills. Other relevant details provided include the type of microphone, computer software, delivery methods, equipment, and turnaround time. To hear examples of a talent's work, you select specific examples from the list on the demo screen. The feedback icon gives a voice over talent the chance to include testimonials and favorable reviews from clients. The Voices.com app also facilitates the request for quote and the hiring process with secure payment and communication.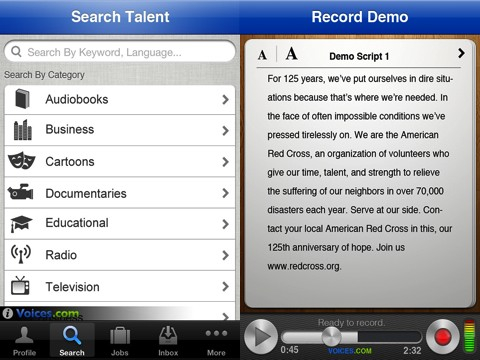 The Voices.com iOS app is a must-have for marketing pros, executives, and voice-over talent. It is a well executed and easily navigated iOS app that increases your productivity.