There certainly are some beautiful looking iPhone apps out there. Rather than being confined by replicating the standard desktop experience on tiny smartphone screens, creative developers have been using multi-touch, retina-esque displays and gestures to create a wave of innovative and easy to use apps. Some of my recent favourites have been IA Writer, Clear and Solar. Clear in particular has excelled at being a ToDo app I actually use.
But can anyone bring that same precision and clarity to journalling/note taking? I've never been able to keep a diary. My mind wanders, I forget or I loose enthusiam. Given that virtually anything can knock me off track, it's really vital that any note taking apps is easy to use and intuitive.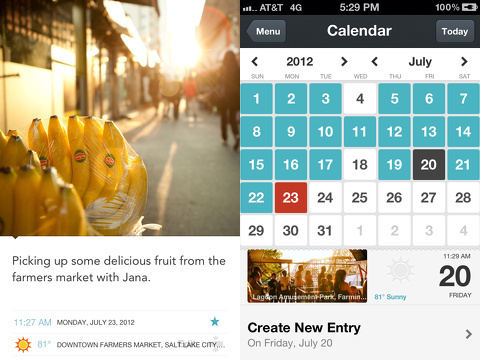 That's why I was so keen to get my hands on Day One – a beautiful looking journalling app from Bloom. As a writer/comedian Day One is really handy place to store jokes and ideas – or just key phrases related to jokes and ideas and then come back to them later. Day One uses the "smart" parts of your phone to log the time and place where you add your note and having sense of time and place really helped so I only need a word or two to jog the sense of a whole routine in my head. Day One is an iOS universal app and is also available for the desktop in the Mac App Store for $4.99 (which is a 50% discount at the moment). Having "access everywhere" really helps apps like this gain traction in your daily life.
The iOS app can be configured so it always opens to a blank page – screming "throw a thought in me". The app is universal and the text looks especially crisp on the new iPad's Retina Display and runs without the performance hitches that made my other favourite note-taking app Simplenote harder and harder to use over time. The iPad interface is particularly useful when composing slightly longer journal entries. Like all cool writing apps, Markdown support is included, which is incredibly useful if you plan on resusing some of your longer entries again online in a blog or a webpost.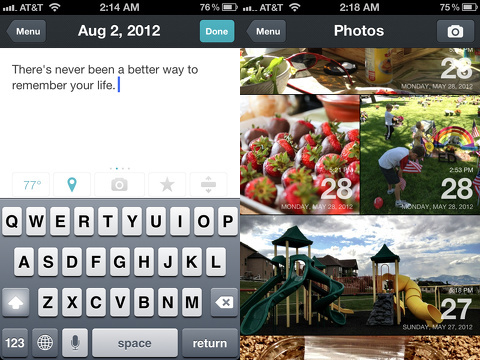 Day One also makes it very easy to add photos, and the visual component goes way beyond eye candy. The photo locations are logged so it's a good way to track what you've been doing and where. I know most teenagers just have a public record of this across social networking platforms but I'm old and paranoid enough to remember a time when privacy was as thing. You can of course share these entries – either copying the text, emailing the entry, tweeting or checking into Foursquare.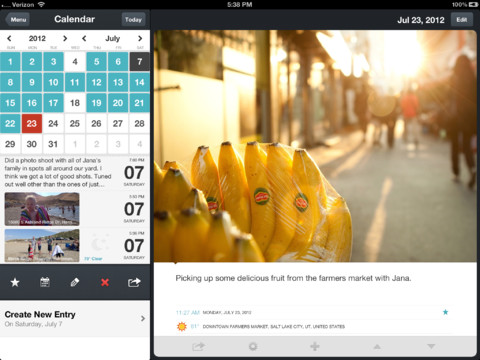 The Mac Store app adds an inobtrustive little widget to the menu bar so it's easy to pop in a thought and then carry about your day. You can also set daily reminders that work really well with Mountain Lion's Notification Centre. Certain phrases are primed such as "what do you crave right now" and you can pop down whatever comes to mind. This almost works like an indivualised trending topic and is good if you're ever stuck for inspiration. If you don't feel like writing at that exact moment you can pop it into the Notification Bar along the side and visit it later – or skip altogether.
Syncing is via Dropbox or iCloud. iCloud synching worked seamlessly. I found Dropbox to be the same but there's a very angry vocal minority of people on the Mac App Store reviews section who claim otherwise so bear that in mind.
Day One sells for $4.99 in the App Store and if you're a scatterbrained creative, it's worth every penny.