The AnyList Grocery List iPhone app is a straightforward and extremely functional app that saves time, energy, and multiple trips back to the produce section for forgotten items. With the smart incorporation of multiple lists that are easily created and sorted, you can stay on top of favorite items from specialty stores, your weekly must-haves, and ingredients for favorite recipes. If you are stuck in a rut, you can also access the excellent recipe database for inspiration whenever you want it.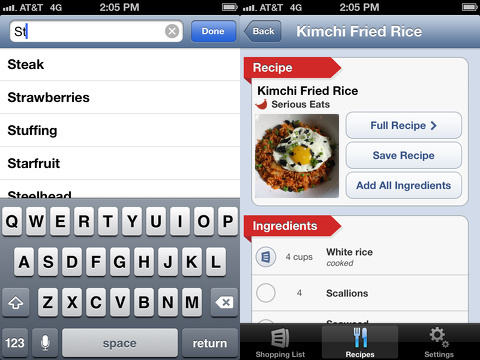 The AnyList Grocery List iPhone app is neither flashy, nor highly designed. It is, however, easily navigated and filled with smart tools. You navigate by pressing between three icons at the bottom of the screen–shopping list, recipes, and settings. The shopping list icon is ready for you to create a list. You simply press the plus icon on the screen to add an item. Each item is automatically grouped to the appropriate section of the grocery store for a more efficient trip to the grocery store. One of the special touches is the ability to add a note for each item. If you have a preferred brand, you can add that note. Or, if you need a quantity, you can add that item as well. As you gather items at the grocery, you tap it to mark it off the list. You can sort the list in one touch to eliminate crossed off items. You can create multiple lists, so each grocery or dish can have a separate list. Another cool feature is the ability to text or email your list, or you can share with an AnyList Grocery List iPhone app user.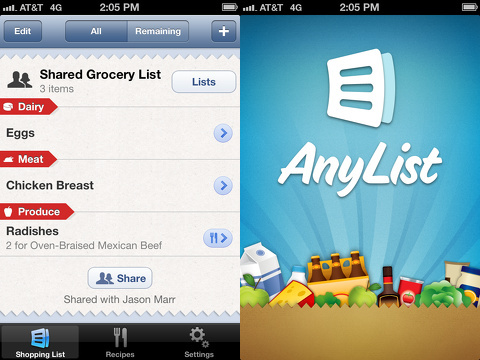 The recipes icon exposes you to nearly 100 resources for great recipes. You can save favorite recipes, and you can sort the database by popular, new, main ingredient, and publisher. If you love Martha Stewart, the AnyList Grocery List iPhone app has her recipes handy. Other well-known contributors include Bon Appetit, America's Test Kitchen, and Epicurious. For each recipe you select, you can add all ingredients in one touch, choose the ingredients you want to add to your list, and add a recipe to your favorites.
The AnyList Grocery List iPhone app is just exactly what you need, and it is free of bells and whistles that can clutter and overwhelm other grocery list iPhone apps. You can create, share, and mark off your list, and you can find great inspiration on the go. And, you can't beat the free download.