The WorldCard HD iPad app is equal parts 21st century rolodex, research tool, and customer relationship management software. It is quickly and easily synced with your iCloud and Dropbox accounts to help you stay on top of business contacts. It could be easily integrated into a sales team for a company, but any professional should be gathering and storing contacts for use in this dynamic economy to score the next promotion, job, or sale.
The WorldCard HD iPad app has a hefty price tag of $14.99, but it is loaded with sophisticated tools and functionality. You can import contacts from your iCloud and Dropbox account, as well as manually add contacts. The coolest way to add a contact is to photograph a business card. In an interface similar to customizing iOS contacts, you can add custom fields to help you track specific information. For example, you can add a field for every one-on-one contact you have.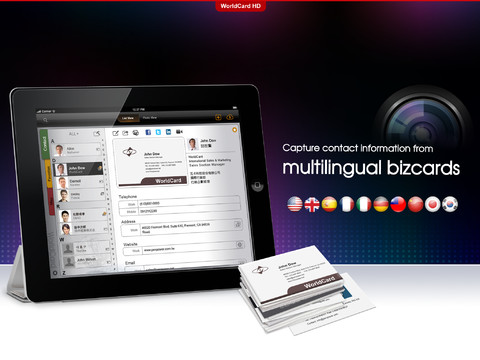 There are also neat one-touch editing fields for your contacts like rotate and crop a card's photo, add photos of both sides of a card, and favorite. You can search for contacts in a list view or photo view. There are file folder tabs on the left side of the screen to allow you to sort contacts, favorites, and find contacts on a map.
When you add a contact, there are additional, handy one-touch options to help you keep up with important developments. You can email the contact with one touch. But, the most useful items are the ability to search for your contact's online footprint. You can scout LinkedIn, Facebook, and Twitter information in one touch. There are no extra steps to open search engines or different social networking iOS apps.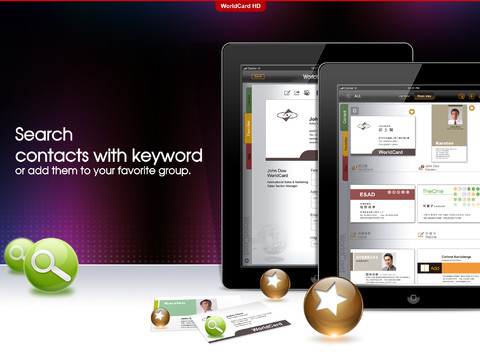 The WorldCard HD iPad app also incorporates some smart features in settings. You can select language recognition, so your contacts world-wide can be integrated. You can also set defaults to sort by name or company. You can also search for duplicate contacts with one touch.
The WorldCard HD iPad app saves you precious time with its simple navigation and smart tools, so you can spend more time making money.
Here is a video demo of the WorldCard HD – the Intelligent Business Card Manager app on the iPhone