Trulia is a real estate app made by Trulia Inc. for iPhone, iPad, and iTouch. It is a simple, easy to use application with excellent customizable search features. Well designed and easy to navigate, it keeps things simple with a calm, minimal, green and white color scheme to go along with a straightforward menu. The home screen is divided into a 9 squared grid with three main search categories.
Signing up for an account is easy, and there is a favorites function to bookmark appealing properties. Each category has a set of search options to help narrow results. For example in the 'For Sale' section users can set a price range, property type, number of beds, number of baths, and square footage. Users can then further specialize their searches to list properties for sale, rent, reduced in price, already sold, or view open houses.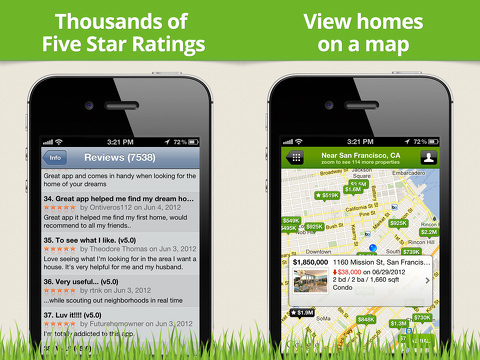 The app utilizes Google Maps for its searches, so rest assured searching will be familiar, easy to navigate, and regionally accurate. Results are marked by price-tag pins that drop throughout the map. Selecting a pin will open a bubble with basic information and a thumbnail. Selecting the window will then go to the property's info where more detailed information including photos, descriptions, listing information, property value and contact information can be accessed. If the listing looks appealing users can conveniently send an e-mail straight from the app to the agent expressing your interest in the property.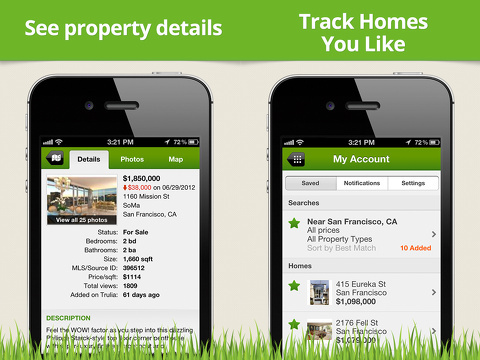 As far as Trulia's usefulness is concerned, it should go without saying that not all regions are created equal. How much you'll like this app will be largely dependent on how well your area of interest is covered. I'm not sure where Trulia gets its real estate information from, but it seems like they have a quite a good source. Large cities are extensively covered, and a few random searches of smaller towns still yielded a number of results. Searching Baker, California gave three nearby listings, not bad for a town with a population of 735 (although they have some level of notoriety as the home of the world's largest thermometer).
I would recommend Trulia if you are in the market for buying or renting a home now or anytime soon in the United States. It is a good resource for satisfying real estate inquiries and is available for free in the iTunes store.