"Only good things will follow." That's what you see the first time you open the Karma app on your iPhone. What is Karma you ask? It's a new mobile social shopping hub for gifts. It's a new way to send real gifts to your friends and family by simply sending a txt message. The much crazed over Facebook IPO today was big news around the tech and financial world. On the iPhone front, today Facebook acquired Karma, no pun intended. Good news for both Karma users and Facebook shareholders. In this review we will cover how the Karma service works on the iPhone and what it offers.
Not only is Karma great for its instant ability to send gifts, it also bakes in a few other goodies. For example you don't need to specify the style, color or flavor of products ahead of time, since the person who receives the gift can choose it. You also don't need to know their mailing address ahead of time, since your friend can enter their preferred shipping address themselves. Finally, you don't even really have to pay for the gift you send until your friend accepts it and enters their delivery info. Here's the flow of how you go about setting up and using Karma on your iPhone to send and receive gifts:
Step 1 – Browse Products and Find a Gift
The app has a colorful and easy to navigate interface that is image & slideshow heavy, and easy on the eyes. Browse products from a set of curated gift types or look for stuff for specific occasions like birthdays, celebrations, new jobs and more. You can dig into each section and filter further or jump right into top gifts. Categories like Foodie, Geek, Quirky, Romantic, Trendsetter, and Baby aim to fit specific niche markets. You can also look into New and Featured gifts for popular Karma ideas. Filter gift prices using a slider to find products within your budget. Karma uses your Facebook account to display upcoming birthdays, parties, graduations, marriages and other gift worthy events from your social circle. Once you find a product or service that you want to gift, you can read the full description of what it includes, and what it costs.
Karma has both physical and virtual gifts. Virtual gift examples include Spotify, Pandora, and Rdio accounts, Netflix memberships, spa packages, and magazine subscriptions. Physical gift options range from chocolates and teddy bears to wine and books. What is currently missing from Karma is keyword search functionality. This can get annoying at times, if you're trying to find something and don't feel like browsing around for it.
Step 2 – Select a Recipient
How Karma gets access to your Contacts and Friends
a) Facebook – If you connect the app to Facebook, you'll be able to find a recipient from your friends.
b) iPhone Address Book – If you allow the Karma app to poll your local iPhone contacts, it will then upload your address book to their server to "make gifting easier". Privacy concerns make this a bit awkward for most users, although they promise to never share your info with 3rd parties.
Once you click on "Add this Gift", you'll follow steps to pick a card, and enter a custom greeting for your lucky Karma receiver. You can pick how you want Karma to contact your friend (TXT message, Email, Facebook Wall Post) and when you want to notify them of it. What happens next is that Karma will contact your friend. They will either send them a text message, email, or write on their Facebook wall. If you want to send an email or SMS text, you will have to either manually type in this info or connect the app with your iPhone Address Book. Unfortunately the app doesn't seem to be able to pull email or phone number info directly from Facebook. For wall posts, you can preview what the post will look like.
Step 3 – Gift Delivery and Tracking
When your recipient gets the message, they will be asked where they want their gift delivered. The TXT message they get looks something like this:
"Hi Andrew, Megs just sent you a gift via Karma. Start by reading your card: http://getkarma.com/gift"
Right before you send the gift, you have to enter your iPhone phone number and email address, so Karma can notify you when the gift needs to be paid for. From the receiver's end, they will see a post on their wall, click on a link and will have to authorize the Karma Facebook app to access their basic info. What's cool is that as soon as the recipient loads the getkarma.com gift page you sent them, you'll get a text message telling you "Eric is reading your card as we speak. Track this gift" with a URL you can use to get a status on the delivery in the Karma iPhone app.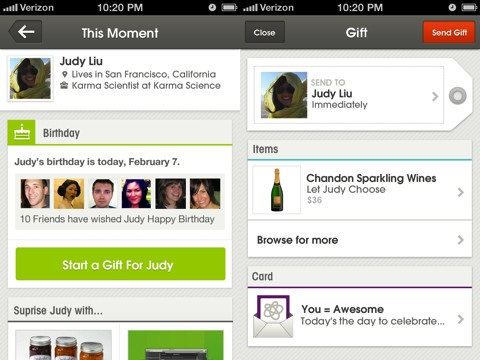 The receiver reads your personalized card and message, hits next to unwrap the gift, and then fills out her/his shipping address. This can be just an email address for virtual gifts or a postal address in case of physical goods. They can even fill out and send a quick thank you card from the same page to return the good Karma.
Step 4 – Payment Info
At this point you go back to the Karma app and in the Sent Gifts section tap the Pay Now button to enter your Credit Card details. You'll need the number, expiration date, CCV, and your Zip Code. Once your payment has been saved and cleared, your gift will get delivered and you'll get a confirmation in the Karma app.
If you change your mind along the way there is also a "Cancel Gift" link on this page, which will also remove the gift post from their Facebook wall.
Billing Information
If you use Karma a ton, you can go into your profile settings in the app and add a card you want to use for sending gifts regularly. Here you can also see a history of sent gifts and Karma Credits
Karma Credits
Karma Credits are points you can use towards gifts. You gain Karma Credits by inviting friends to join Karma or by Redeeming a code. Right now you can get $10 for each friend who downloads Karma on their iPhone (or Android) and enters your secret code. Plus your friend gets $10 too, so everyone is happy. You can also get a $5 credit for posting to your wall about Karma.
Overall, Karma is a totally new idea in giving and receiving gifts socially. It can be thought of as a somewhat similar idea to in-app purchases, except for the "app" is now an actual gift. So give it a shot next time you're looking to send out gifts. It's a fun experience and definitely something you have not seen before.