The Pose iPhone, iPod Touch, and iPad app is not only a fantastic fashion and beauty social network, but it is also filled with exciting navigation, interface, and functionality that new and existing social networking iOS apps will soon be duplicating. Filled with posts by fashion bloggers, designers, celebrities, and the fashionable woman in the next block, you can check out the latest trends, create your own groups of favorites, and purchase some of the items.
You can opt in or out of the lengthy, yet efficient registration process to get started with the Pose iPhone app. I would certainly recommend taking 90 seconds to take the Style Quiz that is part of the registration process. You answer several questions with simple taps on the screen relating to your style. The insightful questions are geared towards helping you define how you express yourself through fashion and beauty. You also can choose from a list of styles to further customize your Pose iPhone app experience–classic, feminine, vintage, preppy, eclectic, international, glam, and high fashion. You will appreciate that you can select different options that may oppose one another on the surface. When you complete the quiz, you are given an instant group of bloggers, designers, and celebrities to follow. You then have the chance to scroll through three or four pages to explain the tools and navigation. For each step in the registration process, you can skip straight to the content. This is a nice way for those who are impatient, but the steps to help you customize content enhance the experience much more quickly.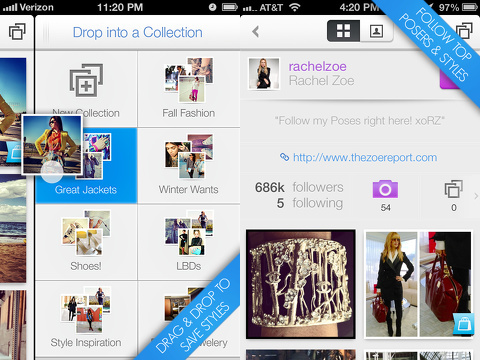 The content in the home screen can be accessed by one touch between a matrix grid of just photos similar to the current Pinterest iOS home screen or a feed with a larger image and detailed information similar to the first version of the Pinterest iOS app interface and Instagram. I would recommend the feed with the larger image in the iPhone app, but find myself drawn to the matrix grid interface for the iPad app. With universal downloads, the larger screen can make a big difference in how you are drawn to the content on an iPad. For each item of content, there is a large bold photo framed with the user's information and social engagement statistics. You can like; comment; share to Twitter, Facebook, and Tumblr; email; and buy it.
The two features that amplify the Pose iPhone app content are the blue dots and the interface for adding it to your collection housed in the sliding right menu. When you touch a blue dot, you can find out designer information. The collections in the right sliding menu are essentially pin boards. You can create a collection to serve any purpose as you dig deeper into fashion, style, beauty, and self-expression. You simply tap and hold the photo, then the right sliding menu of collections moves on to the screen. You then drop the photo into your preferred collection.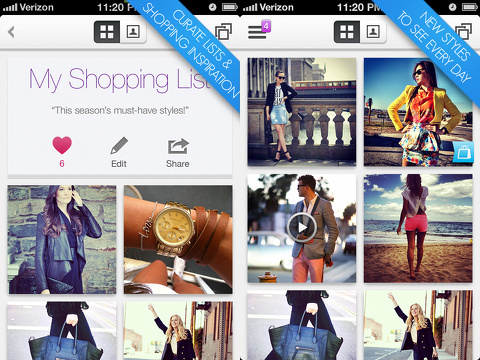 The left sliding menu allows you to navigate seamlessly back and forth through the Pose iPhone app content. You can check out your stream, activity, shop, featured, popular, video, inbox, find people, settings, and create a pose. The activity feed is interesting, as it shows a feed of items loved, liked, and shared by those you follow. If you are looking specifically for items that may be purchased through the Pose iPhone and iPad app, then you simply select the shop feed. The featured and popular feeds are great places to see the trending content. The video feed is a stream of just videos. The settings icon has some neat options to add your website, change your photo, and establish your one-touch sharing settings.
Your profile is also accessed through the left sliding menu, and it highlights your boards and social engagement. Just below your profile photo and name, there is a horizontal bar for you to check out your followers, following, poses, collections, loves, and activity. This interface is a great way to efficiently display a lot of information.
Finally, you can create your own fashionable photo to share. You can shoot a photo from within the app, or you can select one from your camera roll and Instagram photos. You simply select from two photo layouts, add a message, and share with the Pose social network, Facebook, Twitter, and Tumblr. Since there are only two options for the visual content, a more cohesive visual experience results.
Simply put, once you try the Pose iPhone, iPod Touch, and iPad app, you will no longer pin or fancy a thing.