Path 2 is here! The Path social networking iPhone, iPod Touch, and iPad app allows you to share your day's activities, thoughts, feelings, and inspirations with your existing social networks or with a strictly defined group of people. The Path social networking iOS app blends and cohesively merges some of the most successful and desirable features of Facebook, Twitter, Tumblr, and the emerging cadre of location-based iOS apps.
What's Path you ask? It's a network of your 50 closest friends where you post and view photos taken on an iPhone. Photos are posted on your profile page which you can also tag. Tags are used to describe the People, Places, and Things along your path in your pics. The idea behind Path is that it documents your path through life and lets you share it with your closest and most intimate network of friends and family. A big pool of money and talent is behind the startup as they try to create something close to a photo powered mobile network.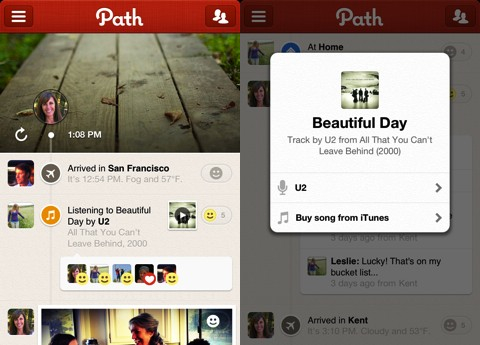 To start creating your path, you create an attractive profile and adjust your settings. The cover photo is a square photo with a smaller round photo for your profile photo. It is similar to Facebook's online interface, but the Path iOS app uses a slightly different process for uploading the photos. You can choose from the attractive default photos by pressing the update icon, or you can choose your own from your libraries. You select a photo, and the small round photo is filled with your selection. You use the same icon to add a second photo which becomes your cover photo. It's visually appealing, and it has a refreshing energy. You set up your profile with quick entry of email, password, birthday, and gender. You will want to activate location services for the Path social networking iPhone app to unlock its potential. Path's iOS app also requests your approval to access your contact list and Facebook friend list to add friends. You can send invitations via email or SMS. There are a lot of steps in the registration process; however, the navigation is smooth and intuitive.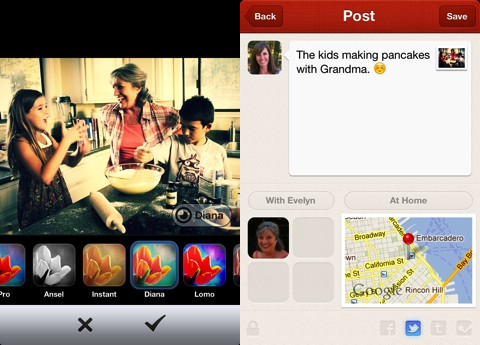 The Path social networking iOS app's smart functionality and navigation continue to enhance your experience as you define and share your path. The screen is filled with photos, videos, comments, musings, and details about your day instead of crowded with navigation icons. The menu bar at the top of the screen allows you to access a sliding menu from each side of the screen. The left sliding menu allows you to move back and forth among your profile, settings, and activity feed. The right sliding menu allows you to search and scroll through your Path friends. There is a red plus icon in the lower left hand corner of the screen that provides one touch access to action features. When you touch the plus icon, it becomes an "X" and six icons in circles pop up on the screen. You can add photos and videos. You can select from a small group of photo filters to enhance your iPhone photography. Some of the more interesting photo filters are available with an in-app purchase of $.99. You can also post who you are with, where you are, your music, your thoughts, and whether or not you are awake. Before you save to your path, you have the chance to enhance your path. You post details like a comment or thought, who you are with, and location. You keep your post private by touching the lock icon, or you can post to Facebook, Twitter, Tumblr, or Foursquare with one touch.
One of the coolest features of the Path social networking iOS app is the ability to track who checks out what you share and the ability to share how you feel about it. When you post to your path, you can get a feel for the number of impressions by touching the smile icon on each entry. You'll see all of the profile photos of those who have looked at the item, and each person can select from several face icons to share a wink, a smile, a sad face, and love.
Path's social networking iPhone, iPod Touch, and iPad app lets you control what you share about how you live your life, and the interface is smooth and attractive to boot.
If you log into the Path.com website from your computer you can edit your profile further and add information like your bio, website URL, birthday and change your notification settings. You can be notified when someone tags you in a moment or shares their moment with you. Path is extremely new so it will take some time to see if all your friends will adopt and start using the service. Also the service is currently exclusive to iPhone owners. The company attracted a lot of attention earlier this year after founder Dave Morin, who helped create Facebook, left the company to start Path, along with Napster founder Shawn Fanning. Video Moments in the latest Path update gives users access to Path Video where you can now share 10 second clips with your close friends. Push notifications have also been added.