The Mobli iPhone app is a cool fusion of Instagram, Twitter, Facebook, and Pinterest. You can upload photos and videos, share, and comment with visually intriguing and enormously intuitive interface.
The registration process reminds me of signing up for Twitter and Pinterest. You can choose to follow sports stars and celebrities. Then, you can choose from a list of topics like sports, fashion, entertainment, cars, music, travel, nightlife, and funny. To maximize the experience and access your photo stream, you'll want to enable location services.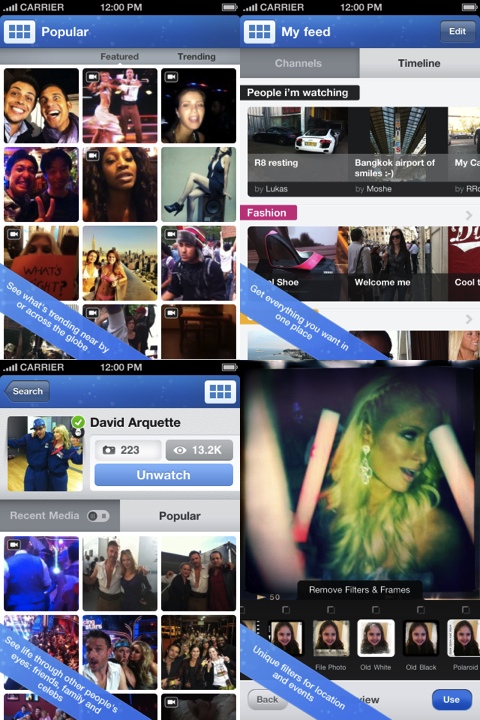 The home screen for Mobli is simultaneously streamined and dynamic. With your Mobli social networking community, you have a feed based on your current location, a live stream of content uploaded to iPhones around the Mobli world, and a popular channel. Each one of these feeds has a changing photo or video to give the home screen life and energy. This slide show feature is refreshing. You can also shoot photos and videos, as well as upload from the home screen. The interface is familiar and intuitive, if you use social networking apps like Instagram, Twitter, and Hipster.
For each photo or video you upload to the Mobli online and mobile community, you have access to incredible tags, filters, and sharing capabilities. You can tag your image and video to make it searchable. Mobli users can love it, favorite it, share it, and repost. The repost functionality is similar to a repin with Pinterest. One of the coolest features is the comment section. You can choose to shoot a photo or video response within the Mobli app camera. You can choose from your photo stream. And, finally, you can choose to simply post text. It's this fun nod to YouTube that makes Mobli an engaging social experience.
Another excellent aspect of the functionality of the Mobli iPhone app is the ability to move forward and backward. For each photo or video, you can move to the next image with a swipe across the screen or with a touch on an arrow button at the bottom of the screen. Mobli's iPhone app is one where you can get lost in the rich content, and the arrow brings a browser-type experience to the functionality. From the same navigation area at the bottom of the screen, you can share to Facebook and Twitter, as well as email. The image or video you want to share flips up at the edge like you're flipping through a magazine. Again, it is an attractive, yet well-executed tool incorporated by Mobli Media Inc.
When you set up a Mobli account on your iPhone, you also enjoy full access to the Mobli social networking community online at mobli.com. It is rare that an online social networking community can translate the experience and to keep its users engaged with their iPhones. Even with Facebook and Twitter, there is a disconnect between the online and mobile experience. But, Mobli Media Inc. has it figured out. The Mobli iPhone app is well-designed, highly-functional, and addictive.