The Highlight iPhone app is the cute sister to Facebook, Twitter, and Find My Friends. By enabling location services, Highlight runs in the background on your iPhone and alerts you to friends near and soon to be friends with similar interests. Are you friends on Facebook with someone who lived on your street as a kid, then moved away? You see their profile and status updates, and you think, "Wow, I never thought we would have so much in common, and you live in the next block!" Highlight's iPhone app creates an easily navigated bridge between your online social network and your offline reality.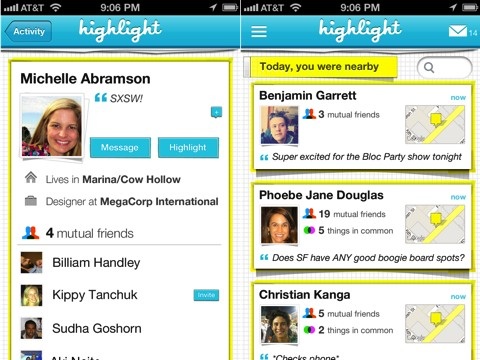 You connect with Highlight's iPhone and iPod Touch app via your Facebook account. There is a note on the screen that Highlight will not post without your authorization. When you allow the application, it does, however, request you give the Highlight iPhone app expansive Facebook power. It seems a little off-putting, but Highlight's iPhone app is a competitor to Facebook. In my use, Highlight's iPhone app didn't post to my Facebook profile.
Highlight's iPhone app grabs some of your existing information in your Facebook Timeline, but it asks you to complete a new profile. This is no laborious chore, as the Highlight iPhone and iPod Touch app profile is reminiscent of a Twitter profile. You include your neighborhood, profession, Twitter handle, and gives you the opportunity to create a "blurb." I absolutely love the "blurb" function. Do you remember when Facebook status updates were your friends' crazy thoughts and perspectives–and not just them sharing George Takei's witty jpgs? Highlight's iPhone app brings back that cool, enticing functionality. As you cross paths with friends in your offline life, then they can post comments on your blurb. For privacy, you can elect to share with friends of friends or everyone.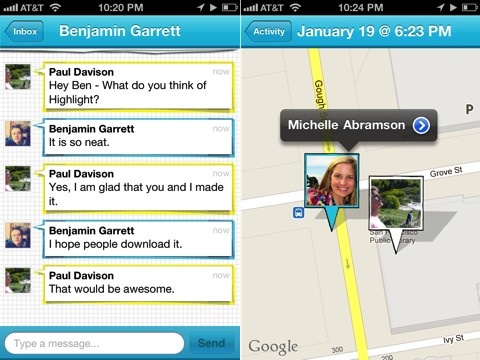 Highlight's iPhone app functions best when you just live your life and watch your six degrees of separation unfold. If you run into another Highlight user, an alert will pop up on your screen. You'll get to see what he or she has shared about him or herself. You'll also get to check out common interests, friends in common, and the other ways your profiles' algorithms jive. Also, what a helpful tool for when you met someone the week before and you can't remember his or her name or the thing you had in common. You access your Highlight profile history using the same sliding navigation menu of the current Facebook iPhone and iPad app.
Since Highlight runs in the background, it does put a dent in your battery life. According to the developers, they are focusing part of every update on enhancing battery life. You'll need an iPad with 3G or 4G capability to to access Highlight.
Highlight is truly a next-generation social networking app for iPhone, iPod Touch, and iPad. When you realize you can grab lunch in between flights and catch up in person courtesy of Highlight's iPhone alert, you'll feel better about the time you spend cultivating your social networking profiles.