If you streamline Instagram, add facial recognition, and incorporate a Facebook photography client, then you've got KLIK by face.com. You can shoot photos, add filters, tag, caption, and share from one iPhone app. The feature that sets the KLIK iPhone and iPod Touch app apart is the use of facial recognition. The KLIK iOS app interface uses facial recognition to make tagging your photos move much more swiftly.
To start using the KLIK iOS app, you must connect with Facebook. You can choose to connect with Twitter as well, but it is not a vital step. You jump straight to the KLIK iOS app in-app camera. You may shoot a photo, shoot a photo of yourself, or you can select a photo from your iPhone photo libraries. When you load the photo, your photo is already tagged with your Facebook friends. It's very cool and simple. You can add a caption and location.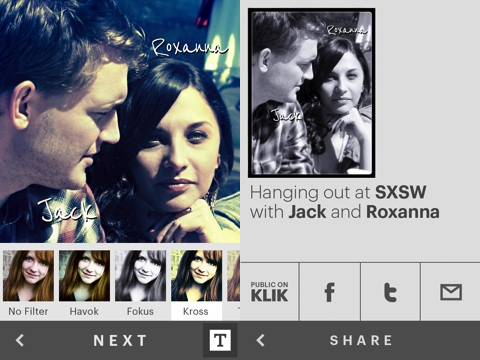 The location services necessary to access your libraries also enables a list of possible locations. You can scroll through the list and select with a touch, or you can choose not to cite the location. The next screen of the KLIK iPhone app gives you the chance to choose from ten filters to enhance your photo. To incorporate the "k" branding, all of the filters replace "c" with a "k." I particularly appreciate the "kore" filter. It is a black and white photo filter using dramatic contrasts reflecting the presence of light in your picture. You can choose to leave names on the picture, or you can turn them off with a touch on the text icon at the bottom of the screen. The final photography screen of the KLIK iOS app gives you the ability to share via one touch with KLIK's social network, Facebook, Twitter, and email. You can select one or all of these sharing features.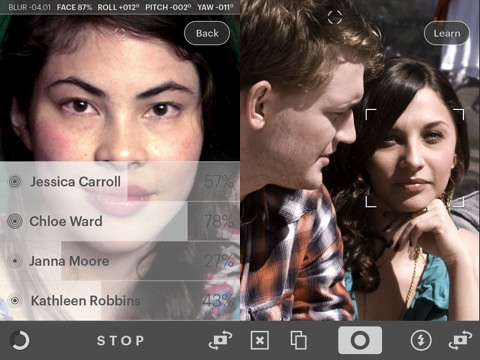 The KLIK facial recognition app also has an online social network with a platform similar to Instagram. You navigate from a menu bar at the bottom of the screen. You can go back to the photography interface with a touch. You can check out nearby photos, so you can keep up with the fun around you. You can check out KLIK photos of your Facebook friends. You can like and comment on photos using gestures and your device's keyboard. Your profile is a cool place to check out thumbnails of your KLIK iPhone, iPod Touch, and iPad photos.
The incorporation of facial recognition to instantly tag your photos is super cool and efficient. If you share a lot of photos on Facebook, then you'll love this facial recognition iPhone app. The KLIK iOS app provides a glimpse of the future, as it blends social networking, photography, and productivity into a neat package.