Facebook and Twitter can feel too open and impersonal for most people. If you want more control over what information you share and with whom you share it, then you'll want to check out the new Everyme social networking app for iPhone. It helps you narrow and define groups to share a private conversation. It's the perfect way to keep up with your girls night out group, your work lunch crew, and your family without requiring everyone to participate in the same social networking application. It's also a great way of staying in touch with your friend who responds to texts, but doesn't answer an email. All of your conversations are private, so you never have to worry about your posts, pictures, and observations ending up where you don't want them to be.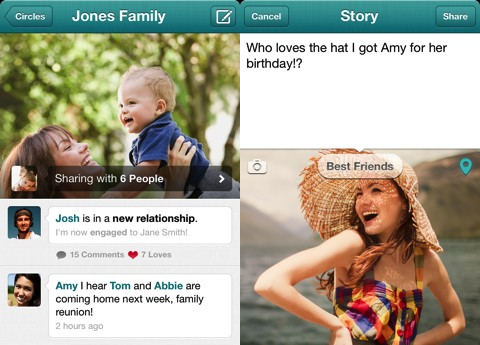 By accessing your Facebook, Twitter, LinkedIn, Instagram, and contacts list, you can let the Everyme app do the hard preliminary work of creating your "circles." It takes a bit of time to sign in and authorize four different applications, but I used my iPad and wireless keyboard to speed the process. The Everyme iPhone app automatically generated four lists for me: my high school friends, my college friends, my sweetheart, and my family. Everyme assures you it will neither post on your behalf, nor will it save your contacts to its servers. Or, you can create your own groups with simple interface. You simply click the plus icon. name the group, and add members via your contacts list, a phone number, or an email address.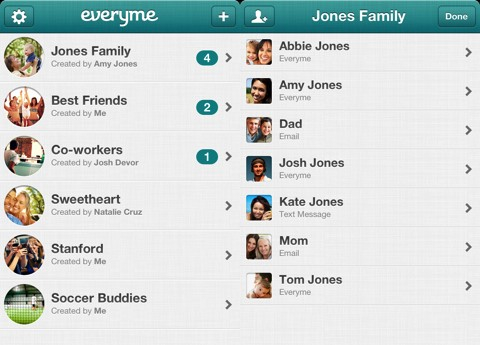 Each group has its own private thread of conversation that can be customized with a photo. The default photos for the Everyme iOS app are attractive, but certainly the ability to enhance and personalize the visual content is a welcome feature. When you begin a conversation, you can take a photo, share copy, and add location. An Everyme user will receive the shared item on his/her iPhone, iPod Touch, and iPad. If you have someone's phone number, then they'll receive the piece of conversation via text. If you have an email, then your content will be delivered via email. One neat feature is the ability to simply reply to the email to add your comment to the conversation. You'll receive email updates to see who is receiving what and when responses are received. So, you'll receive lots of the same information in different places. It would be great to decrease the frequency of email notifications, if you religiously check the Everyme iPhone app via a settings menu adjustment.
Everyme's iOS app lets you clearly define your groups of friends and share with them across multiple platforms. If you need to rant about work, then you can do so privately and without the fear of HR wrath. If you want to organize cocktail hour, then you can do so without a post showing up in a news feed. The ability to control your privacy is an extremely relevant and timely topic. Fortunately, there is a beauty, elegance, and simplicity in private social networking as envisioned by Everyme.
What do you think? Will you sign up for a new social network like this one, that feels more intimate and private than Facebook?