The just released Facebook Camera iPhone app has three functions–a photography news feed, a nice interface to upload photos to Facebook, and a streamlined in-app camera. Facebook has essentially created a client for its users.
The attractive photo feed of your Facebook friends' photos is a welcome feature, but the gesture navigation is the exceptional aspect of the photo feed. You can scroll through your friends photos displayed with great clarity and precision. If a friend is tagged in multiple photos or shares an album, you swipe your finger across the screen and the pictures move across the screen horizontally. If you want to navigate back to the top of the screen where you access the camera and your iPhone and iPod Touch photos, you double tap at the top of the screen and you're quickly transported. It's an agile, time-saving feature. The comments and likes are displayed on the photo. With a touch, you can like quickly and comment quickly. The photo does not have to process and turn, so you can comment swiftly.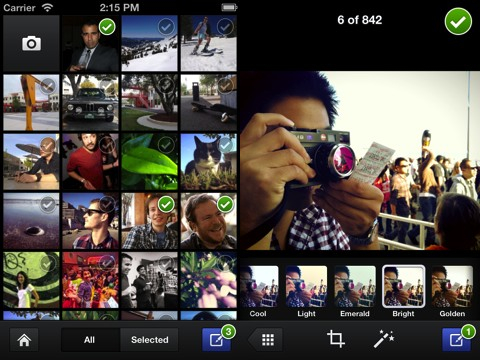 The Facebook Camera in-app camera is accessed with a touch on the camera at the top left of the screen. It is an extremely simple camera with basic snap shot function. After the photo is saved to the camera roll, you can apply one of fifteen filters, crop, rotate, and tag it. Although there are fifteen filters, none compare to Instagram and Hipstamatic. The interface for using these tools is straightforward and direct, but photo effect junkies and photography nerds will be extremely underwhelmed by the Facebook Camera iOS app's limited functionality.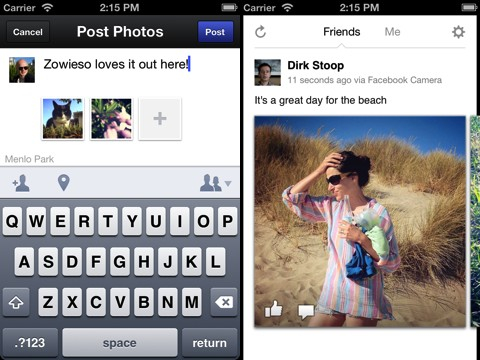 The most successful feature of the Facebook Camera iOS app is the quick photography upload for multiple photos. The photo library is accessed at the top of the screen by sliding your finger down the screen. You can select multiple photos, tag them, and then upload them in one group to Facebook. The interface for uploading the photos is exactly like the Facebook iOS app, but it has a quicker upload speed.
As an iOS photography app, the Facebook Camera app brings nothing ground-breaking to your iPhone. However, the Facebook Camera iOS app is successful in making it quicker and easier for people to upload strong, meaningful visual content to enhance users' experience, increase engagement, and hopefully positively impact the bottom line.