The Ptch iPhone app strings together photos and videos from your iPhone library and social network profiles to easily create custom videos with music, title, and captions. The Ptch iPhone app incorporates easy sharing features to instantly engage with your existing social networks on Facebook and Twitter, as well as contacts stored in your iPhone. When you create a video with Ptch, you also join its social networking community like Instagram. With Ptch, you not only craft a new perspective to view moments in your life, but also you view, like, and add comments to Ptch-created videos to expand your social network.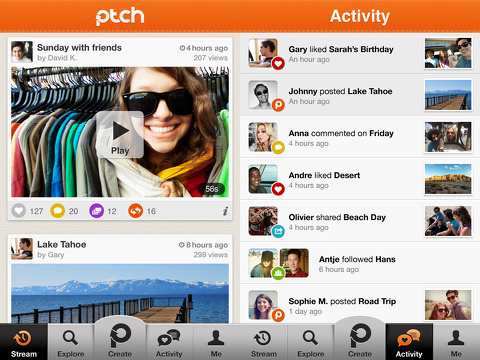 The navigation in the Ptch iPhone app closely mirrors Instagram. There is a menu bar at the bottom of the screen to check out the recent feed, popular feed, create a ptch, and check out your profile and activity. The Ptch iPhone app feed contains the first photo of a video, concise details about the ptch user, and a synopsis of likes, shares, and comments. If you want to add a like, comment, or share to your Ptch or existing social networking, you simply press the blue "i" icon to access functionality. Ptch's navigation is nicely crafted, but it doesn't break the mold.
The Ptch iPhone app interface for creating a video does, however, incorporate effective gesture controls and surprising speed. You move into landscape mode and access tools by touching clearly defined icons. The top menu bar allows you to select photos and videos from your iPhone library, your Facebook photos, and add a title. You can also add Google+, Instagram, Tumblr, Twitter, and Viddy authorization to access more photos and videos. When you select your Facebook photos, the top menu bar fills with thumbnails of your photos that can be accessed with horizontal finger swipes. You drag photos and videos to include in your video to the middle part of the screen.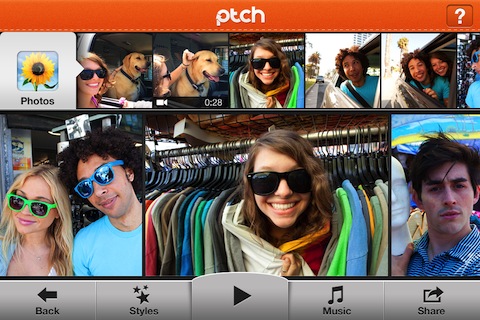 To change the order of the photos, you drag one horizontally to the chosen location and release your finger. The drag and drop worked fairly well, but the interface for re-ordering images in Flipagram's iPhone app lets you have a better, more-cohesive sense of the video. The larger photo size in the Ptch iPhone app doesn't allow you to see as many images and adds time to the process with increased scrolling. You may choose to add a title photo and edit the text to start your video. You can also add comments to your photos quickly. A neat feature is to add an effect to your Ptch video like Instagram and Hipstamatic. The effects range from black and white to vintage to comic book. You can also choose from a curated list of songs to add music instead of selecting music from your iPhone. When you have finessed your video, it is processed in a flash and ready to save to your account or share with the Ptch iPhone app social network, Facebook, Twitter, or email.
Ptch's iPhone app is fun, easy, and a fresh lens to view moments captured across all avenues of your online life and those you catch on your iPhone.