Search, discover, learn, and fund projects with the Kickstarter for iPhone app. The visual vibe is stunning. Social engagement is beautifully and efficiently presented. Smart search options are easily navigated. And, you can keep up with your pledges, projects, and account simply.
The Kickstarter iPhone app has a sophisticated, strong feed of content. There is a photo of the video, name of the project, tally of pledges, number of backers, and days left to fund a project. The tally of the pledges is a horizontal line filled with green to show the progress of the funding. You scroll through the feed with vertical swipes. Your activity and account information are also neatly and attractively organized by touching the appropriate icon at the bottom of a feed's screen.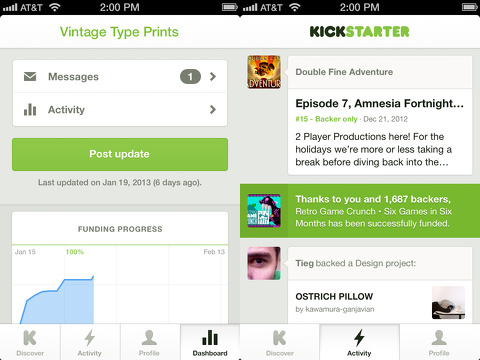 There are two interesting ways to search through Kickstarter projects. The top of the screen defaults to staff picks. There is a small triangle just to the right of the staff picks text, and a fantastic search menu slides over the screen. You can quickly search through popular, starred, and specific categories like art, comics, publishing, and technology. You can also enter a manual search. This tailored interface helps you find what appeals swiftly. In the right hand corner of the menu bar, you can also search for projects nearby with a touch on the location services icon.
With a touch on the video in a feed of Kickstarter projects, you are transported to the project's screen as the video starts. The name of the participant, the project's synopsis, location, and tags are succinctly displayed. Additional information for the project is contained in a list. With a touch on the item, you move to a new screen to get more information. If you touch the project's details, you can sort between details, risks and challenges, and FAQ with one touch on the screen. You can read and post comments, check out pledges and perks for backers, and back the project.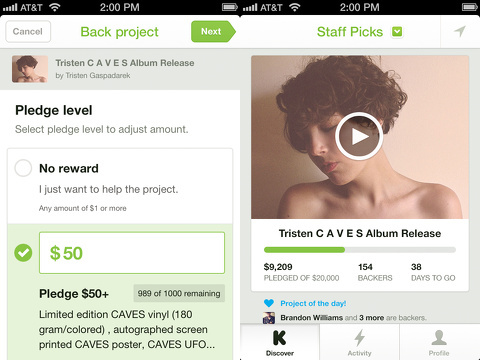 This innovative crowd-funding internet phenomenon is perfectly replicated with Kickstarter's bright, smart iPhone app.