The Spred iPhone app curates Instagram, Pinterest, and Tumblr photos, so you can explore, organize, and share your favorites with ease and beauty. It's essentially a Pinterest for photos that helps you filter through the fluff, the uninteresting, and the offensive, so you can find exactly what interests you.
The Spred iPhone app requires an authorization by Facebook or Twitter to get started. Your existing profile photo is grabbed and becomes your Spred iPhone app profile photo. You also create a username, and you must add your email, birthday, and gender for your account. The birthday and gender seem superfluous, but they are not publicized in your profile. An extremely attractive stock photo becomes your cover photo, and you can change that by visiting settings.
The Spred iPhone app has great interface for the introduction to tools and functionality. Your screen is filled with a slightly larger version of your feed, and you tap arrows to be transported through the feed. Tips and tricks are available, as you move through the introduction. It is fluid and energetic.
The home screen for the Spred iPhone app is filled with a large quantity of strong visual content, and it is also organized nicely. There is a matrix at the top of the feed, and you can access your profile, tour, invite friends, and give feedback. The rest of the feed is a series of categorized photo streams. Each has a title set across a gray band with a horizontal bar of thumbnail images below it. You can scroll through the thumbnails from the home screen with horizontal swipes on the photos. Or, you can scroll with vertical swipes through the categories like random coolness, best of Instagram, popular on Pinterest, music, movies, books, quotes, crafts, style, and many more. You can touch a photo on a stream to look at a larger image, or you can tap the category title to reveal a grid of thumbnails. When you are checking out a larger image of the photo, it is framed with the profile photo, username, and social network icon. You can tap it again to only view the photo and swipe through the stream without social networking information, but this is where the interface gets a bit wonky. You cannot easily go back to a category or home screen without a couple of desperate taps on the screen.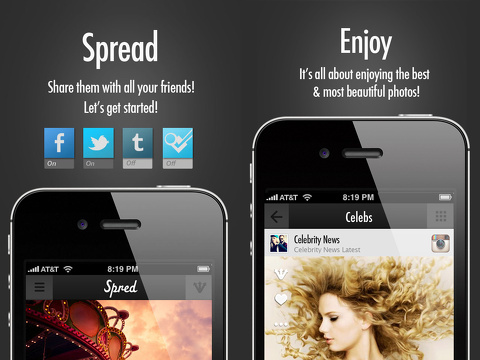 The interface to share a photo in the Spred iPhone app is excellent. You can tap the triple arrow icon in the top menu bar, so you can add photos from your camera roll, web, and in-app camera to the Spred iPhone app social network. If you want to share a photo you run across in the Spred iPhone app content, just look for the triple arrow icon. There is one screen where it is at the bottom of the screen. A neat sharing window pops up, and you add a caption, location, and highlight the social network for sharing. You can share to Facebook, Twitter, Tumblr, and Foursquare. As you share your photo, you also add it to your deck. Decks are to Spred, as pinboards are to Pinterest. You can name your deck and categorize it.
The excellent organization of photos and the succinct sharing interface are elegant and intuitive, but there are a couple of transitions in the interface that could be finessed to improve it. An established location for the triple arrow sharing icon and the ability to move seamlessly out of the larger images would improve it.
As is, the Spred iPhone app creates a social network that is solving a very real problem. The Spred team is doing the hard work of curating Instagram, Pinterest, and Tumblr. The effective organization of this vast amount of visual content is impressive, and you can engage socially in a familiar, yet fresh way.