Boxes – Make the most of your stuff iPhone app combines Craigslist, Pinterest, and Instagram, then it tosses in productivity features like tags, categories, and descriptions to help you stay organized. You can participate in the Boxes iPhone app social community to share a wish list or sell an item, or you can keep items neatly stored and private for effective organization.
There is an extensive process to get started with the Boxes – Make the most of your stuff iPhone app, but it helps you feel immediately immersed in the vibe. You can sign up with Facebook, Twitter, or email. If you sign up with Facebook, then you must authorize it to post publicly on your behalf. With Twitter, you allow access and enter your full name, user name, email, and password. It pulled in my Twitter profile photo, but you can also choose a custom profile photo. Next, you scroll with horizontal swipes through a brief introduction. The process to find friends is started from a simple list of search options–contacts, Facebook friends, and Twitter friends. You may also send invitations. The final part of the process involves tapping items you love in a matrix to follow people. Many categories of items are shared like fashion, design, furniture, art, sports, cars, and technology.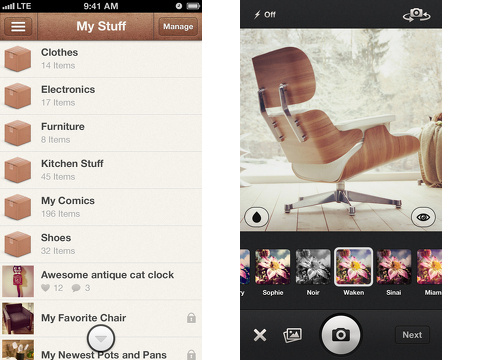 The feed of the Boxes iPhone app is dominated by an item's photograph with provider details and social interaction tallies. The photograph has a top bar with the username, profile photo, item description, and time posted. At the bottom of the photograph, you can press like, favorite, or share to Facebook, Twitter, and Pinterest. You will find a log of likes and favorites on top of the photo in the bottom left corner. If you want to leave a comment, the icon is on top of the photo in the lower right. If an item's photo does not provide enough visual contrast, you may not notice these items. If an item is for sale, a banner is placed in the upper right corner. The information for each post is dense, but it is generally organized nicely.
When you touch an item to learn more about it, there is a surprising feature. In a nod to Craigslist, you can ask the owner a question or discuss purchase options for items for sale. You tap the icon and enter a message.
If you want to add an item, you simply press the plus icon in the lower right corner of the screen or by touching the list icon. You can snap a photo with the in-app camera or use one in your iPhone photo libraries. You can apply photo filters to give your photo texture. Then, you add title, caption, tags, price, and the location of the item. The great feature is the ability to make an item private with a touch on the lock icon. This cool tool helps you organize your life without social interaction. You add a tag, hashtag, and place an item in a box. You can access your items by touching the list icon in the upper left corner of the feed screen.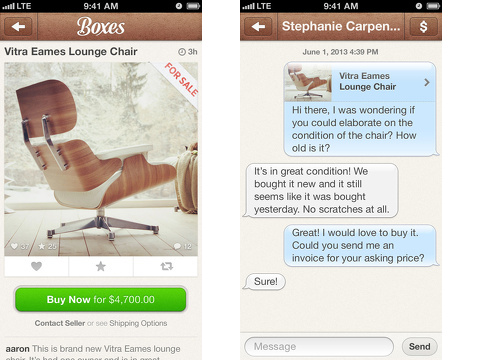 The list icon gives you a chance to access additional cool features. You can create a wish list and likes, so friends will never be at a loss for what to get you for your birthday. You can also access your boxes and messages. This would be a great tool to stay on top of Christmas shopping. You can keep track of your kids and family members gifts, if you are organized enough to buy throughout the year. Also, if you struggle to remember where you put things in real life, you can snap a photo and write yourself a note. If you are selling items, the messages feature keeps those conversations in one place.
The Boxes – Make the most of your stuff iPhone app adds a stylish, whimsical touch to selling and sharing, but it also tosses in handy, vital organizational tools in this free iTunes App Store download.