The Coachella app for iPhone, iPad, and iTouch is the mobile companion app to the Coachella Valley Music and Arts Festival, one of the largest, most popular music festivals in the United States held by Goldenvoice LLC. They take things a step further than other festivals by featuring reunions of well known bands that are no longer active. Over the years Coachella has landed such monumental reunion acts as Jane's Addiction, The Pixies, Rage Against the Machine, and most recently Snoop Dogg and Dr. Dre. These names all come alongside an always impressive, massive list of performers spanning across every genre imaginable. Countless artists from deadmau5 to the Mars Volta have catapulted themselves from underground sensations to household names after the exposure their amazing performances at Coachella. This year, for the first time, Coachella is being held during back to back weekends in April to meet the growing demand for attendance. The festival organizers promise an identical experience for both weekends.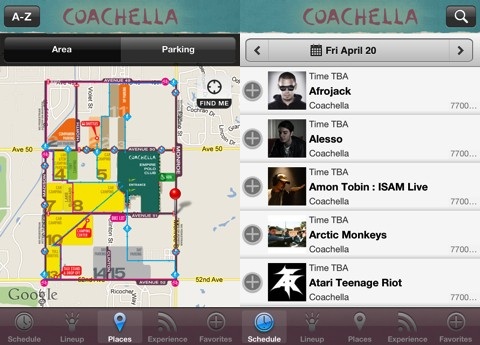 I was lucky enough to attend Coachella during the first week and gave their mobile app a try. You can browse the schedule by day, and make a list of all the bands you are interested in seeing. There's an interactive map that shows places of interest, as well as your GPS location. The app is also connected to the Coachella Facebook, Twitter, and Youtube channel. The app also offers various ways to make your friends jealous with customizable Coachella 'postcards' and Twitter/Facebook updates bragging about what bands you're seeing.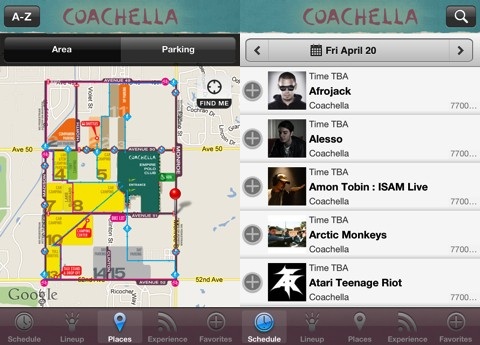 It would be nice if the chart of set times and stages was a little more accessible. As it stands the only way to get to it is to download the .pdf of the 'Day of Guide'. The guide comes in printed form in the box set which ships with your festival wristband, along with a sticker, calendar, and other memorabilia. Although set times of artists are listed on the schedule page I still found it more convenient to be able to see all the stages and times side by side to help plan for the inevitable overlap of bands you'll want to see. Granted its uses are quite specific, but this free app still offers a good list of bands and information to check out once the festival has past. It can be a good source of nostalgia or rage, depending on whether or not you got to go.
This 3rd Party App is available at the Apple iTunes AppStore. Browse the full list of
all AppStore apps
filed under the AppStore category.