SiriToggles is a new jailbreak app for the iPhone that adds a few additional voice commands to Siri on iPhone 4S models that have been jailbroken. Developed by Hamza Sood and available in the BigBoss repo for free in Cydia, SiriToggles as the name suggests will give you the ability to toggle settings on and off quickly using voice commands sent to Siri. As of right now SiriToggles understands only a handful of specific commands, although more will most likey be added.
Here are some of the commands you can send to Siri once you've installed SiriToggles.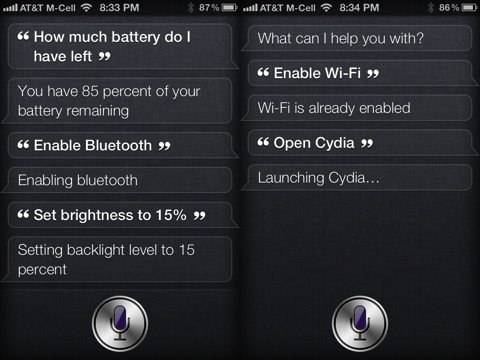 – Enable Bluetooth
– Disable Bluetooth
– Turn off Wi-Fi
– Tun on Airplane Mode
– Turn off cellular data
– Set brightness to 75%
You can also ask SiriToggles how much battery you have left on your iPhone.
Finally you can ask Siri to launch apps by name using SiriToggles. You can say things like
– Open Cydia
– Launch Safari
– You can pretty much say Open/Launch [any app name]. Even apps that have a space in them work as long as Siri translates the name correctly.
Being able to quickly turn on and off your Bluetooth and WiFi settings using your voice is a very fun and handy feature of SiriToggles, and make life a lot easier.
Related: If you haven't already looked at SBSettings app in Cydia, which allows you to quickly toggle WiFi and other settings using custom buttons in the Notification Center.
To jailbreak an iPhone 4S you can use the GreenPois0n Absinthe hack.
Use iPhone mods and hacks at your own risk! Installing 3rd Party iPhone apps requires you to jailbreak the iPhone before installing the native software and apps. You can use Cydia to install this app. Browse the full list of all iPhone and iPod touch native 3rd party apps filed under the software category.