iTweak Store is a new alternative to Cydia for downloading and installing jailbroken apps on the iPhone, iPod touch and iPad. For now iTweak is under construction and is planned to be released in the "next couple of months" according to the iTweakStore twitter page. If you visit the website at itweakstore.com you can check out some of the screenshots of the store on a teaser page. There are a couple of developers behind the iTweak project namely Kyle Pierre @roktheworld27 and Max Tamer-Mahoney @mtamermahoney.
Post the classic Installer.app days, Cydia has been the dominant repo and package manger app for everything under the jailbreak umbrella. While there are other geeky ways of installing jailbreak apps, Cydia currently serves as the one and only hub for discovering and downloading jailbreak apps by the general public. An alternative service called Rock (your phone) was around for a few months before being acquired by Cydia founder and incorporated into the existing application model. A new competitor to Cydia will most likely be well received by the jailbreak community. It will mean having a choice when it comes to installing new tweaks, and mods, and possibly innovations on the existing Cydia model.
Screenshot of the iTweak Store on the iPhone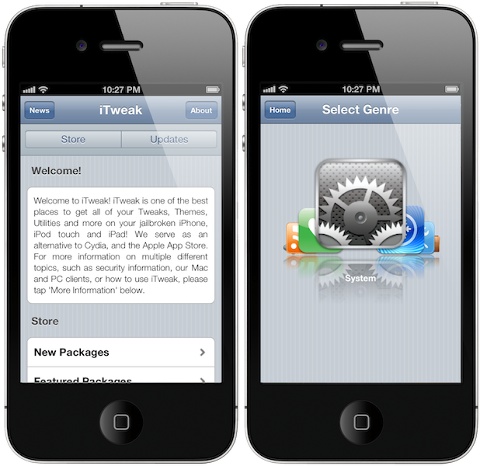 Screenshot of the iTweak Store on the iPad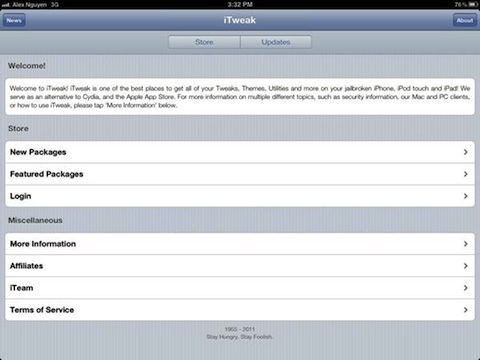 iTweak will have to overcome a few major hurdles to compete with Cydia including: payment processing, account management as well as application download history. Currently, once you jailbreak your iPhone, Cydia is automatically installed on your device as the default mod store by any number of the hacking tools like redsn0w, GreenPois0n etc. So obviously another barrier for iTweak will be to figure out how to install itself onto jailbroken devices, unless iTweak is a web based application or service.
iTweak is described on the upcoming portal as:
A new store to tweak your Jailbroken iOS device
Fast, powerful, and very easy to use
More details about iTweak will be posted as we get more information. Tell us what you think of a Cydia alternative below.
Use iPhone mods and hacks at your own risk! Installing 3rd Party iPhone apps requires you to jailbreak the iPhone before installing the native software and apps. You can use Cydia to install this app. Browse the full list of all iPhone and iPod touch native 3rd party apps filed under the software category.