Evasi0n is the latest tool for jailbreaking your iPhone, iPod touch, iPad, and iPad mini device running iOS 6.0, 6.1.0, and 6.1.2. The evasi0n utility app can be downloaded for free and runs on Windows, Mac OS X, and Linux computers and will then easily jailbreak your Apple mobile device. Evasi0n was developed by the evad3rs hacking team which consist of @pimskeks @planetbeing @pod2g and @MuscleNerd. After you have used evasi0n and installed Cydia, you will get updates sent to your devices via Cydia. The latest version of evasi0n is 1.4 which supports the latest iOS 6.1.2 software update. Read below for quick download links and installation instructions.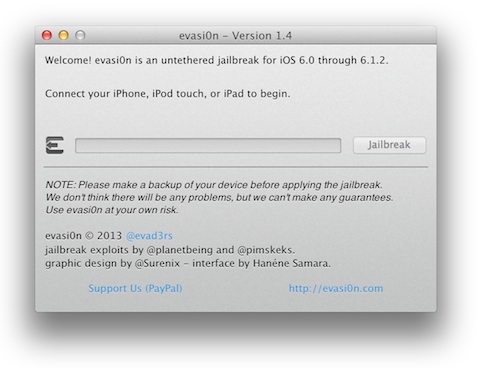 Download evasi0n 1.4
evasi0n for Mac OS X
evasi0n for Windows
evasi0n for Linux
Install evasi0n and Jailbreak Instructions

To be safe, first backup your device using iTunes (or iCloud) before using evasi0n. This will give you the peace of mind of being able to go back to your current state if you change your mind down the line or if something goes wrong and you get stuck.
Disable the passcode feature of your iDevice to avoid issues. Go to Settings > General > Passcode Lock > Turn Passcode Off
Connect your iPhone, iPad, or iPod touch to your computer using the USB cable.
Run the evasi0n application on your computer and click on the "jailbreak" button to start the process.
Once evasi0n is finished jailbreaking your device, your device will restart and the Cydia icon will appear on your HomeScreen.
Jailbreak Notes and Tips: While evasi0n is running ignore iTunes messages and iOS alerts. You are even probably better off walking away from your computer for a few minutes. If for some reason something gets stuck somewhere just restart the evasi0n program or restart your device by pressing and holding down the power and home buttons simultaneously. Users of OS X 10.8 may have problems opening the evasi0n app. To get around this just control-click (right-click) the app icon and choose "open" a couple of times.
Use iPhone mods and hacks at your own risk! Installing 3rd Party iPhone apps requires you to jailbreak the iPhone before installing the native software and apps. Browse the full list of all iPhone and iPod touch native 3rd party apps filed under the software category.
evasi0n developer's website can be found at evasi0n.com