Cydia is a replacement packaging and repository manager for the original Installer.app for the iPhone or iPod touch. It was created by Jay Freeman to replace BSD Subsystem and Installer.app. Cydia is a UI frontend to his Open Source APT for Debian called Telesphoreo. Cydia pomonella is the scientific name for the codling moth, which is what we often think of as the stereotypical apple worm. Cydia itself looks similar to Installer.app but adds many improvements to organization, functionality and performance of Installer. With Cydia you:
– See the number of apps in each category
– See details of what installing each app includes such as file size and functionality added
– Search for apps by name
– See changes to your currently installed apps and available upgrades
– See details of currently installed apps and easily manage them
– A full user system for app purchases and reviews
– A theme system
– An iPad version
Installing Cydia
Cydia App Icon To install Cydia you need to jailbreak your iPhone/iPod touch or iPad. There are many ways you jailbreak depending on which device you own and what version of iOS you have installed. Most notably you can use blackra1n, redsn0w, PwnageTool, Spirit jailbreak, jailbreakme 2.0, and QuickPwn. Also, if you already have Installer.app installed just add http://apptapp.saurik.com/ as a source to Installer and install the package "Cydia Installer" from the "System" category.
Generally if you upgrade your iOS to the latest version from Apple, it will unjailbreak your device and/or prohibit you from being able to install Cydia. Jailbreak developers generally support things one release behind the active iOS version. Use this table to easily find out how to install Cydia depending on your iOS version.
iOS Jailbreak News
iOS 6.0.0 A4 devices only tethered jailbreak
: The latest version of Redsnow (0.9.13 dev 4) is out and can jailbreak iOS 6 on older devices with a tether. This means it only works on the iPhone 4, 3GS, 3G, iPad 1, and iPod touch 3G.
iOS 6.0.0 iPhone 5 jailbreak rumors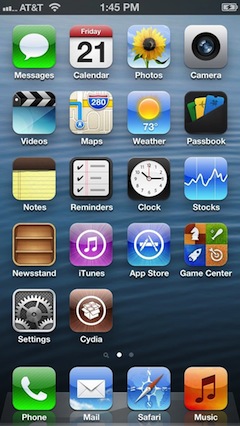 After the iPhone 5 was released, hacker @chpwn tweeted a photo of Cydia on the new taller iPhone 5 screen. This was partly a publicity stunt to prove a point that he has already jailbroken the device. Unfortunately for the rest of us, his hack is not yet available publicly. We will post updates on the iPhone 5 jailbreak situation as they become available.
iOS 5.1 A4 semi-tethered jailbreak
: You can perform a semi-tethered jailbreak on your A4 powered devices running iOS 5.1 using Redsn0w 0.9.10b6 thanks to the Dev Team. Note that this requires an older A4 device which does not include the iPhone 4S, iPad 2 or iPad 3. Full instructions and a video tutorial are listed on our Redsn0w page.
New iPad 3 (iOS 5.1) Jailbreak
: Good news on the New iPad jailbreak front today. Developers have already jailbroken the New iPad that was released just today. Twitter user has already posted screenshots of the New iPad with root access and running Cydia shown below. There is no ETA on a public iPad 3 jailbreak tool yet, but we will post details as they become available.

iPhone 4S and iPad 2 (iOS 5) Jailbreak
: Good News! GreenPois0n Absinthe has been released by the Chronic Dev Team giving you the ability to perform an untethered jailbreak on the iPhone 4S and iPad 2 with the A5 chip. For detailed instructions check out the GreenPois0n Absinthe page.
Best Cydia apps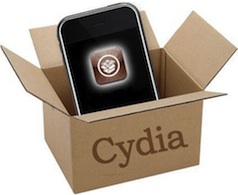 Cydia has a ton of apps for you to try but some of them can be complicated or not very exciting. This is why we review the best Cydia apps you can download here at AppSafari. To browse our reviews check out the Cydia apps category. We often add new reviews of popular Cydia apps so be sure to come back often.
Cydia Notes & Updates
White Cydia Icon Fix
Sometimes after installing Cydia, you might notice an all white icon. To fix this white icon issue just follow these steps: Open Cydia > Manage > Sources >Edit > Add > Paste the following URL http://apt.saurik.com/cydia-3.7 > Add Source and wait while Cydia updates itself. This should now give you the official Cydia icon.
If you have iOS 4.3.1 you can install Cydia using either redsn0w 0.9.6rc9 (Mac and PC) or PwnageTool 4.3 (Mac only) for an untethered jailbreak.
If you have iOS 4.2.1, you can either use GreenPois0n to do an untethered jailbreak, and you can also try a tethered jailbreak using redsn0w.
With the release of the iPhone 3G which comes with OS 2.0 and the related iPhone pwnage tools many of the apps written for the older Installer.app have to be ported over so developers are working on that. In the next few weeks you will start to see more and more apps in Cydia with lots of cool new features, so check back often.
For Windows users with the iPhone 2.1 software update, you can get both Cydia and Installer on your iPhone really quickly and easily by installing the QuickPwn software on your Windows PC. The entire process is streamlined and takes only a few minutes.
Ultrasn0w for iPhone 3G or 3GS can unlock your iPhone 3G or 3GS with OS 3.0 firmware.
1. Ensure you have upgraded to iPhone OS 3.0
2. Jailbreak your iPhone 3G using redsn0w or PwnageTool & if you have the 3GS use the purplera1n installer app to jailbreak it instead. (after this step you will have Cydia)
3. Run Cydia
4. Add the repo repo666.ultrasn0w.com to Cydia. (that last o is actually the number zero)
5. Search for "ultrasn0w" in cydia and install ultrasn0w
6. Reboot your iPhone 3G
7. T-Mobile USA users should disable 3G before using ultrasn0w
Purplesn0w can also unlock your iPhone 3GS, so use it instead of Ultrasn0w if you wish. The steps are exactly the same as the above. Only use this repo source in Cydia apt.geohot.com and install Purplesn0w from there.
If you have OS 3.1.2 you can use blackra1n or PwnageTool 3.1.4 to jailbreak and get Cydia installed on your iPhone or iPod touch.
If you are running OS 3.1.2, 3.1.3 or 3.2 and want to install Cydia on your iPad, iPhone, or iPod touch, use Spirit. It is simple, takes 30 seconds and best of all it is untethered.
Important: If you install SSH on your device, be sure to change the default root password on your jailbroken device:
1) Install Mobile Terminal From Cydia and run it
2) Type in "su root" and tap return
3) When prompted for a password, enter "alpine" hit return
4) Type "passwd" and hit return
5) Type a new password and hit return
6) Re-Enter your new password to confirm and hit return
7) You're done. You've successfully changed your default root password and should feel safer now.
The website jailbreakme 2.0 let's you install Cydia on your iPhone, iPad and iPod touch by just visiting a website, if you have not updated past 4.0.1 yet. No installs or cables needed. Get Cydia in 3 minutes flat.
Most people new to jailbreaking ask the question; is it legal to jailbreak my device?
The answer is, technically yes. Jailbreaking your iPhone will void your contract, but it is not illegal. Having said that, you can restore your device to its factory settings if all else fails as a last resort. Now, it is possible that your device will have issues and you might lose your data stored on the device. This is why it is highly recommended that your always backup your device via iTunes before jailbreaking. This assures that you can restore to a working backup as a worst case scenario.
New Features in Cydia:
Cydia keeps getting better on every release and update, and saurik's support is exceptional. Below are a list of additional features that have been added to Cydia so far.
– Rock was a new mod app store which has been acquired by Cydia.
– Theme Center has been added to Cydia. It gives you the ability to buy and manage jailbreak themes on your iPhone from a single location, as an alternative to a competing app called Theme It. Right now you have a selection of the top selling themes from Cydia in the Theme Center and staff picks. You will soon be able to rate the themes as a user, thanks to the new user account system in Cydia.
– A new user account management system has been added to Cydia that lets users check previously installed packages.
– Cydia developers Jay Freeman & chpwn have created an iPad version of Cydia.
– Cydia is coming to the Mac! Apple is soon to release the Mac App Store. The new Mac App Store won't allow Mac developers sell in-app purchases for "Lite" apps, create Game Center integration or even to generate promo codes. Since some developers don't want to deal with going through Apple, Mac Cydia will let you do just that. Contact Cydia via patrick@saurikit.com if you are a developer and want more details on getting your Mac app into the Cydia Mac App Store, set to launch in a few weeks.
Apple should and sometimes does (folders for example) take a few elements from the Cydia Store and port them to the App Store.
Use iPhone mods and hacks at your own risk! Installing 3rd Party iPhone apps requires you to jailbreak the iPhone before installing the native software and apps. Browse the full list of all iPhone and iPod touch native 3rd party apps filed under the software category.
Cydia Developer's website can be found at saurik.com