Keep up with the latest games, league standings, videos, news, and MLS soccer rumors with the MLS MatchDay iPhone, iPod Touch, and iPad app. MLS Live subscribers can also watch matches live with location services authorization. It is neatly organized and easily navigated, yet it is filled with tons of content, filtering options, and custom notifications.
The navigation of the MLS MatchDay iPhone app is successfully accomplished by a list of search options in the sliding left menu. With one touch, you can move between scores, videos, news, standings, AT&T goal of the week, alerts, settings, and MLS clubs. All of the MLS clubs are listed, but you can select up to three favorites to remain at the top of the list. When you touch a category, the screen slides over the list and reveals a complementary interface to the content you selected. For example, the video screen has a matrix with featured, full highlights, The Daily highlights, and 90 plus highlights. There is also a list of videos like Save of the Week and Anatomy of a Goal. The videos load quickly and have great clarity. The news feed is a list sorted by featured and most recent posts, but you can access filter options by touching the funnel icon in the upper right hand corner.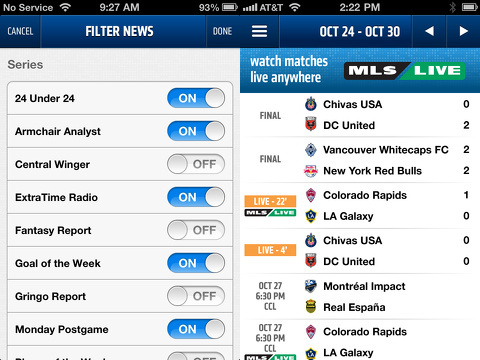 Each club has its own information hub, and it is filled with everything an MLS soccer junkie needs. The next match's date and time are available on the club screen. Below the logo and match information, you can select from the following: schedule, roster, news, videos, and tweets. The schedule has a monthly calendar with the logo of the opponent on the date of a match. A cool feature is the ability to check out tweets relating to your favorite team with one touch.
The alerts and notifications of the MLS MatchDay iPhone app are tremendous and exciting. For each team, you can set customized alerts to find out breaking news; new videos; lineup; match results at start, half, and end; goals; misconduct; substitutions; and condensed match information. It is such a cool feature to stay informed with the details of a match even if you are unable to watch.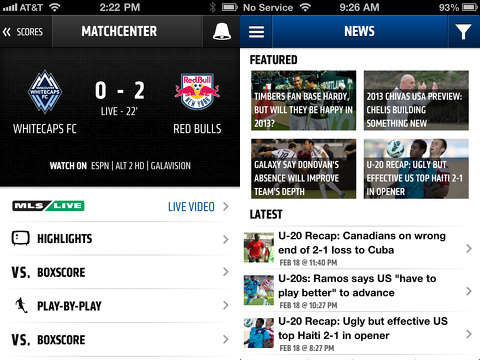 An ad banner at the bottom of the screen follows you through it, but the quality of the information, videos, and features are not impacted by this extremely minor distraction. The MLS MatchDay iPhone app has incorporated excellent customization features and filters to help you find the soccer news that is most important to you.