United Airlines is the world's largest airline in terms of number of destinations. Last year the company merged with Continental to become United Continental Holdings, Inc. United frequent flyers members enjoy the benefits of being part of the Star Alliance, the first and largest global airline alliance. This massive alliance boasts roughly 30 affiliate and partner airlines catering to the traveling needs of passengers worldwide. The United Airlines app allows for easy planning and organizing of air travel through the iPhone, iPad, and iTouch.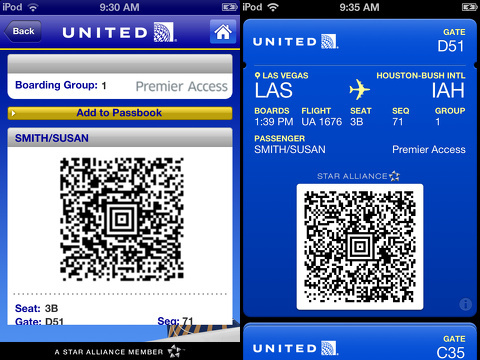 Most features available on the United online website are also available on the app. Users can check the flight status of any flight by flight number, departure date, and location. The app allows for checking in to a flight starting 24 hours before its scheduled departure. A map of airports across all global locations served by United helps users find viable travel destinations. The search function lets users find flights specific to their travel needs. Most search results are quite extensive, however, and scrolling through them on the app can be a cumbersome process. Standard search features include one way, round trip, search by date, cabin level, and number of tickets as well as organizing by price and schedule. Chains of flights to multiple destinations can also be searched, and frequent flyers can search by award points travel. Flight timetables, regardless of seat availability, may be searched as well.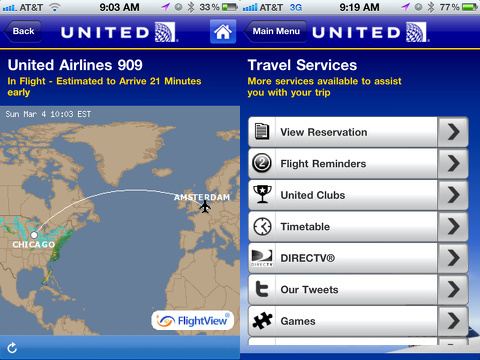 The My Account section allows frequent flyers to log into their United account to view account information. The app can be setup to send push notifications for flight status changes. Paper copies of tickets are no longer necessary thanks to the Mobile boarding pass, which contains all necessary flight information and can be scanned at the airport counter. The new version for iOS 6 features a Passbook function to upload your actual boarding pass to your device after checking in.
In addition to these services United has included a number of other useful features for travelers. The app has a currency converter as well as contact information to various departments of United Airlines. The United Clubs section offers lounge location services at various airports around the world. DirecTV is offered on some flights, and listings of their programming is available on the app. There is also Sudoku as well as a link to United tweets. Chances are you won't be using it too often, but United Airlines is a useful free app for any United flyers.
This 3rd Party App is available at the Apple iTunes AppStore. Browse the full list of
all AppStore apps
filed under the AppStore category.