Wanna watch TV on your iPad or iPhone? With the native FilmOn TV app for iPad and iPhone you can watch TV from around the world including UK, Italy, and Germany. You can also pay to watch more channels and content. With FilmOn you can watch live free television from major networks including NBC, ABC, CBS, Fox, CNN and your local TV stations all available for free on your iPad. Other stations provided for iPad users include Sky News, BBC News, CNN International, Universal Sports, and more.
The in-app purchase will cost anywhere from $10.99 to $124.99 and is billed on your iTunes Account. This is a renewing subscription per period.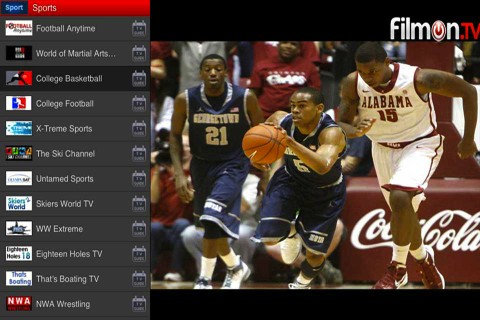 With the native app you can:
– Attach our new FilmOn devices allowing you to watch your local TV FREE NOW
– Record shows using a DVR feature that stores shows on your iPad.
– Pay for Premium Channels in the full package of 150+ HD stations
– Pay for On Demand programming
Issues: The live stream is not really live. It is delayed about 30 seconds. The stream gets interrupted at times, probably due to the huge amount of people logging on to watch TV on their iPad. Also during our tests the Safari browser crashed at least twice and one time even caused an iPad restart.
Update Note: FilmOn was previously available via a Safari web browser at the URL http://filmon.com, but that feature is no longer supported for some reason, so you have to download and install their native application.

This 3rd Party App is available at the Apple iTunes AppStore. Browse the full list of
all AppStore apps
filed under the AppStore category.