Zoom
User Reviews

cliqcliq Colors is another great iPhone app for generating and browsing color palettes on your iPhone. Developed by cliqcliq.com, with this app you can create custom color palettes from your own photos, by hand, or just check out a list of user generated palettes on the cliqcliq website.
Once you open the cliqcliq app, you have a list of options to get you started. You can browse or create palettes. Browsing lets you view public palettes online from other users. Once you create your own palette you can then share it with the community as well. My Colors is where stuff you create are stored. Tap any palette to edit and view details. Each palette contains up to 12 colors and each color is shown with a box along with its Hex, RGB, CMYK, HSB values. Share any palette by email to just upload it to the cliqcliq site for everyone to view. You can give your pattern a name and star/favorite it for yourself as well.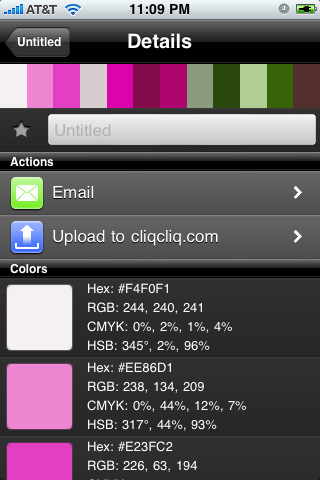 Create new palettes from scratch or use photos. Fill in as many colors you need one at a time by dragging and dropping colors into a palette on the bottom of the screen. Take a picture on your iPhone and cliqcliq automatically extracts the relevant colors from it and creates a palette for you. From there you can pan and zoom around in the photo and the app automatically recreates the palette to match visible portion of the photo. You can do the same using existing pics on your iPhone. Finally, the cliqcliq Colors app even lets you browse flickr photos by keyword, and use them to auto-generate palettes.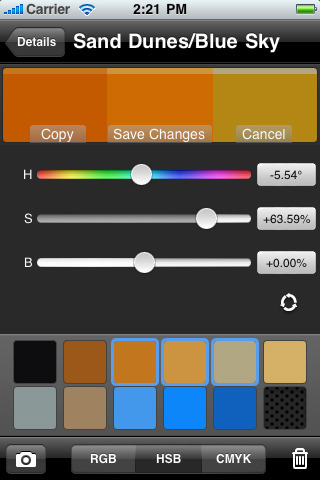 While this app does not have the predefined color patterns like Color Stream does, it does offer a social aspect for discovering and sharing user palettes, and offers a larger number of colors to be used in your palettes. Overall a great productivity app for any developer or designer with an iPhone.
This 3rd Party App is available at the Apple iTunes AppStore. Browse the full list of
all AppStore apps
filed under the AppStore category.